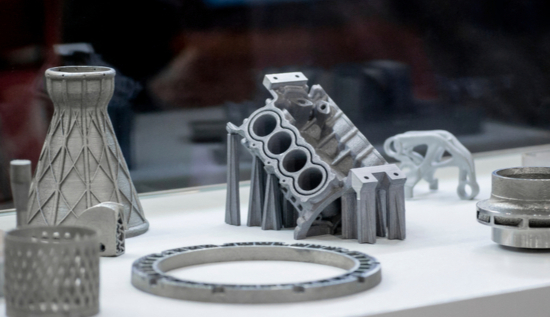 3D Printing Metal Technology: Before, During And After COVID-19
The global 3D printing metal market is projected to manifest a significant CAGR from 2019 to 2026, mainly driven by the high-end advancement in 3D technology. Article by Allied Market Research.
Professionals involved in designing and fabricating metal parts are well aware of the immense possibilities of metal 3D printing. And, using additive manufacturing methods for projects has now become a common practice in the manufacturing units. Well, there are an array of different 3D printing equipment and mechanisms available in the market. And, metal 3D printing technology is evolving really fast, giving life to promising and excellent projects. 
According to Allied Market Research, the global 3D printing metal market is projected to manifest a significant compound annual growth rate (CAGR) from 2019 to 2026. High-end advancement in 3D technology is anticipated to propel the market expansion in more than one way. Additive manufacturing methods that make use of glass, paper, bio-inks, and several compounds and metals for printing, has supplemented the growth yet more. 
Also, in Southeast Asia, the 3D printing metal sector has started witnessing an increasing demand from the defense and aerospace market, as the metals are believed to diminish weight of the aerospace parts and perk up the craft's overall efficiency. With conventional manufacturing process on board, this thing actually becomes time-consuming and expensive. The ability of 3D printing metals to print low-priced equipment in considerable less time has worked as the major factor boosting the market growth. Also, top-end advancements in technology and rise in penetration of bio-based materials have propelled the market in Southeast Asian countries to a significant extent.
REGISTER NOW: Additive Manufacturing Deployment And Future Developments In Southeast Asia
The main benefit of metal 3D printing lies in its constant and unremitting expansion in the range of metallic composites. The fact that these metals enable manufacturers to fabricate parts of any desired mechanical properties has increased their importance to a considerable stretch. Also, with additive manufacturing on board, transition from the designing phase to the production of the final parts is quite faster which, in turn, has proven to be highly beneficial to the manufacturers.
At the same time, considering the metal parts from the perspective of a designer, 3D printing technologies make space for the production of exclusive and distinctive structures. The technology also allows raw materials to be added, shaped, and molded layer by layer. And, they don't need to be conked out of a bulk compact figure. This makes sure that the material is placed only where it is required and this way, the cost of the materials used to process the relevant components is reduced. This certainly makes metal 3D printing a resource-efficient process. 
With the use of the technology, one can also combine different functions and features into a single printed part, without being least worried about giving rise to any sort of complexities. When they can incorporate new functionalities in, they can also create new channels & lattices to enhance the much-needed lubrication in projects. External surface grains can also be formed to brush up adhesion or to tether to another part.
COVID-19 Scenario
Before the rise of the pandemic, the 3D printing metal market was expected to continue its swatch of substantial growth. In the last few years, revenue has mounted up to a considerable extent, emergence of new entrants have been noticed in the sector, and investments in the technology were also pretty huge from different nooks and corners. But, after the pandemic has broken out, it is anticipated to experience a steep decline in terms of revenue that will, somehow, take years to recoup from.
For other exclusive articles, visit www.equipment-news.com.
Check these articles out:
Global Metal 3D Printer Market Outlook
Frost & Sullivan Reveals 9 Emerging Trends Reshaping Industries Post COVID-19
Siemens Launches Advance Manufacturing Competence Center in Singapore
Materialise Acquires ACTech To Expand Manufacturing Solutions For 3D-Printed Metal Parts
3D-Printed Medical Devices Can Remedy Supply Bottlenecks In Times Of Pandemic
WANT MORE INSIDER NEWS? SUBSCRIBE TO OUR DIGITAL MAGAZINE NOW!
FOLLOW US ON: LinkedIn, Facebook, Twitter