A System More Compact Than A Conventional Transfer Press
With the Compact High Speed Servo Tandem Line, AIDA Engineering has developed a flexible, more-compact system that meets the demands of tomorrow's jobs.
The right automated press setup meets not only the requirements for today's stamping jobs, but allows for flexibility to meet the demands of tomorrow's jobs.
Transfer operations have been widely used in automated systems, however, since all forming processes are performed in one press, the transfer press must necessarily be large.  Such Large size brings a number of concerns:
A transfer operation means major investment because of required accessories, such as floor scrap conveyors.

Because the press is large, a large pit is required, increasing the initial cost.

Large press size dictates high rigging and transportation costs.

Larger dies mean higher costs and more storage space.

Large press size makes changing the press layout difficult.
For stampers, remaining competitive requires them to make the right technology choices, to not only meet current job demands but also to have the infrastructure in place to support customers' future requirements. Stampers can support ongoing growth and productivity by considering these primary elements when choosing new pressroom equipment:
Press equipment should be flexible and have the capability to produce a variety of parts. This type of versatility means pit-less on the shop floor and less overall capital equipment costs.

Press automation must be considered, to boost overall output.
On a more fundamental level, press equipment must be reliable and well maintained.
A Flexible Option
In recent years, a flexible alternative automated transfer press system called 'Compact High Speed Servo Tandem Line' has begun attracting attention because it can compensate the conventional transfer press systems. The system was achieved by using a general-purpose servo press at each stage and linking these presses using high-speed transfer robots—enabling a newly designed platform for dedicated robot lines.
So, how does a compact high-speed servo tandem line achieve the ability to match the size of a large press? By arranging the small servo presses in tandem for each process, it is possible to optimize different processes at a time. In transfer processing, there are various forming processes such as drawing, bending, trimming, punching, and coining, to name a few; but in the compact servo tandem line, each process can be set independently and optimum slide motion can be achieved. 
Equipped with a predictive function that avoids interference between the timing of the press slide and robot transfer motions, it enables synchronization of the entire line without slowing the line speed, thereby achieving productivity that is even equivalent to that of a large transfer press.
Compared to the conventional transfer press, which performs multi-step process operations with one slide, it is possible to bring out the features of the servo press to an even greater extent. When used in a compact servo tandem line, automation can deliver improved productivity as parts move from press to press.
With the configuration, there was an issue that the timing of process and material transportation is different in each process. Therefore, AIDA installed a transfer device independently in each press, and set up a mechanism to transfer according to each slide operation non-processing timing. This determines the optimum line speed based on the slide motion set for each press and the transportable time calculated from SPM, for the speed of the entire line.
In other words, by adjusting the non-processing area time of each press so that it can be applied to one cycle of the entire system, it is possible to synchronise the entire line without lowering the line speed compared to the past. The system also has the flexibility to add multiple presses later to change the line configuration.
Servo System Versatility
To further improve flexibility and uptime, servo technology stampers can produce a range of parts from materials such as aluminium and magnesium alloys, and high-strength steels and titanium alloys, while achieving higher speeds and working energy, and improved control and precision.
Pre-programmed motion curves and the ability to design programs unique to the job at hand, along with the ability to change from producing one part to the next quickly, also add to the system's versatility. Operating in continuous mode can deliver even higher productivity rates.
Advantages
1. Enhanced frame rigidity
Using a press frame that is symmetrical front-to-back delivers uniform front-to-back elongation and improves dynamic accuracy.
– AIDA is working towards even better durability by taking measures to reduce stress concentrations.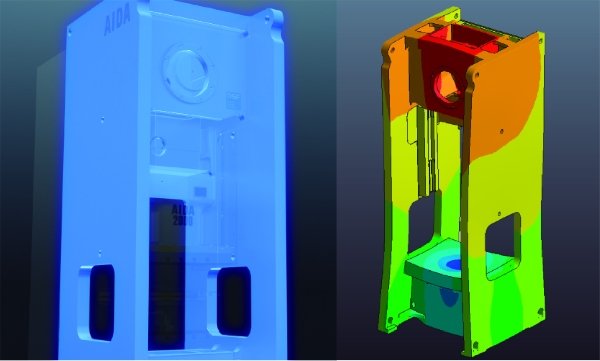 2. Isolating electrical components to extend service life
Electrical components are located in separate cabinets to isolate them from stamping vibration. This extends the service life of electrical components.
3. High-speed transfer robots NCAH-III (S)
AIDA has effectively increased the productivity of a conventional compact tandem line, thanks to high-speed transfer robots and high-precision synchronised controls.
As the entire line can be synchronised without sacrificing speed while still avoiding interference between the timing of the press slide and robot transfer motions, it achieves an equivalent, or even better, productivity than a dedicated transfer press.
In addition to that, a separate press slide for each stage of the forming process not only reduces the effects of off-center loading, but also enables the choice of optimal forming motion for each stage of the process. This contributes significantly to uniform product accuracy.
4. Reduction of factory equipment cost
Utilising compact presses in tandem will also change the conventional factory equipment design. Unlike larger transfer presses, the physical size of a compact servo tandem line system is relatively small. The height of the building, which was decided according to the machine height of the large press, can be kept low. The compact servo tandem line can be placed without preparing a pit for installing the press, making it possible to considerably reduce the equipment cost in the factory.
Since large buildings and deep pits are not required, factory capital investments, such as the capacities of cranes and the power of air conditioning, and equipment power, are significantly reduced too. Such system does not require any large accessory equipment, making press-layout changes a breeze.
This is a major advantage for companies that are expanding, as it significantly reduced the amount of capital investment.
5. Space-saving design
When combined with a NCAH-III (S) transfer robot system, the installation footprint of a line composed of six 2,000 kN presses is 40 percent smaller than a conventional transfer press.
6. Synchronised operation servo motion
Thanks to dedicated press slide for each process stage, forming is possible with optimal motion for each stage.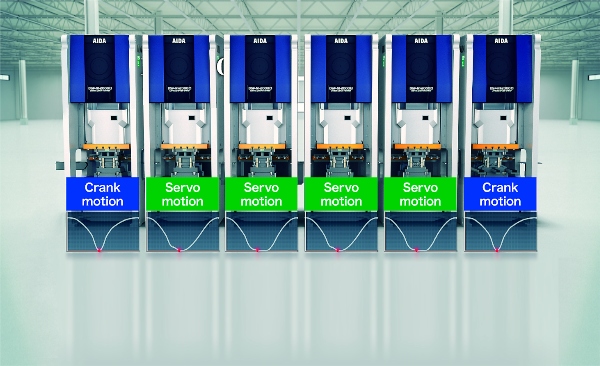 Stampers that install flexible equipment and incorporate a system-wide approach to make automation part of their operations have an opportunity to remain competitive with lower-cost labour markets.
For a more economical alternative, Mechanical Compact Tandem line is available too. For more info, please log on to www.aida.com.sg.
For other exclusive articles, visit www.equipment-news.com.
Check these articles out:
Vietnam Could Be The Next Strategic Production Centre For Hyundai
Schuler Expert Assistance Right At The Machine
INNOVIA 300 system Service Commences For Driverless Mover In Shanghai
Makino Strengthens Presence In Vietnam With New Technology Centre
Siemens Mobility To Develop China's Intelligent Infrastructure
Tungaloy Boosts Deep Hole Drilling Productivity
WANT MORE INSIDER NEWS? SUBSCRIBE TO OUR DIGITAL MAGAZINE NOW!
FOLLOW US ON: LinkedIn, Facebook, Twitter