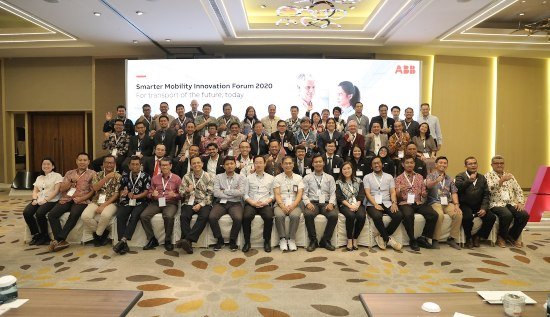 ABB Supports Growing EV Market In Indonesia
ABB hosted its "2020 Smarter Mobility Innovation Forum" in Jakarta, focusing on smart solutions to support successful adoption of electric vehicles (EV) in Indonesia. This is in support of the growing EV market in Indonesia, which is undoubtedly gaining pace, especially after President Joko Widodo issued a Presidential Regulation that will accelerate the development of EV in Indonesia, laying out government support for the EV industry in August last year.
READ: Investments worth US$900 million in Indonesia's automotive industry
Indonesia, which is one of South-east Asia's largest economies, registers annual car sales of about one million units. The government aims for electric vehicles to make up at least 20 percent of total domestic vehicle sales by 2025, reducing the country's reliance on imported fossil fuels and enabling Indonesia to maximise its abundant nickel reserves, a key material for making lithium-ion batteries.
A broad range of topics related to the EV industry in Indonesia were discussed, including global trends and technology shaping the market, different impacts and benefits of smart mobility, and technical matters such as reliable AC and DC fast charging stations with robust connectivity and innovative on-demand electric bus charging systems.
READ: The Auto Industry: Roadmap To The Future
As part of ABB's Mission to Zero, the company offers total solutions across the full e-mobility value chain, from power generation and distribution to connection to the vehicle. These efforts by ABB have provided strategic support to the government's effort to adopt smart, reliable and emission-free mobility solutions.
"ABB has sold more than 13,000 DC fast chargers in more than 80 countries including Indonesia and the demand keeps on growing. Our state-of-the art EV charger solutions are example of how ABB keeps innovating on technologies that will help our customers and partners pursue their goals toward a zero-emission future," said Jorge Aguinaga, Local Business Manager for Electrification business in Indonesia.
Read more:
4 Other Automakers Join Toyota's Electric Vehicle Project
Makino Strengthens Presence In Vietnam With New Technology Centre
Thailand To Waive Excised Tax On Full Electric Vehicles
Ford Charges Electric Push In Beijing's Transforming Market
BMW And Toyota Invest In Self-Driving Shuttle Startup
Taiwan Investing In India's Electric Vehicle Market
Electric Cars May Cost Less Than Gasoline Cars In 2025
WANT MORE INSIDER NEWS? SUBSCRIBE TO OUR DIGITAL MAGAZINE NOW!
FOLLOW US ON: LinkedIn, Facebook, Twitter