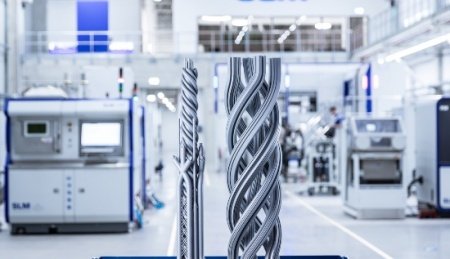 Accelerating the Journey to Series Production
Multi-laser technology is changing the future of manufacturing. Article by Gary Tang, SLM Solutions.
One of the most important current trends in 3D printing or additive manufacturing (AM) is the advancement of functional parts into series production, aided by consistently improved machines with increased productivity, robustness, and stability. And being the pioneer of selective laser melting, SLM Solutions is changing the future of manufacturing by rapidly industrializing its multi-laser technology for the next generation of series production. 
Headquartered in Germany, SLM Solutions holds the base patent as the inventor of the selective laser melting process and, to this day, focuses on the advancement of this production process. The company was the first to develop and introduce multi-laser systems to the market, with the twin-laser SLM 280 in 2011. In 2013, the flagship SLM 500 was unveiled—the first quad-laser machine on the market and designed for continuous operation. The SLM 500 has been selected by Rolls Royce last year for its next stage of AM industrialization, allowing the company to meet both its productivity demands and maintain rigorous quality controls.
Leading 3D Technology and Process Innovation
As an innovation leader in the industry, SLM Solutions also offers patented bi-directional recoating to reduce laser-off times and overlap stitching to optimise part quality. The closed-loop handling system ensures operator safety and process integrity, and is a unique approach that isolates operators from metal powder during the powder fill process and unpacking after a build.
Besides productivity, improving process parameters is just as important when it comes to AM. By optimizing the parameters, it can help users to achieve real build rate increases of over 170 percent. All machines enable qualified production in a variety of materials, including aluminum, titanium, cobalt-chromium, Inconel, tool or stainless steel, as well as copper alloys—almost any weldable alloy can be processed. As a complete partner in developing additive manufacturing processes, SLM Solutions also offers software solutions and consulting services to customers to further lower the learning curve, develop new materials as well as production processes. 
For other exclusive articles, visit www.equipment-news.com.
Check these articles out:
Gaining A Competitive Edge With Additive Manufacturing
Mouldmakers Turn To Process Automation In Race To Recover
Sandvik Coromant Joins Forces With Microsoft To Shape The Future Of Manufacturing
NextGenAM: Taking Major Steps Into The Next Generation Of Industrial 3D Printing
BMW And Mercedes Put Autonomous Drive Collaboration On Hold Due To COVID-19
ABB Supports Growing EV Market In Indonesia
EOS Launches Versatile Online Platform To Fight Further Spread Of The Virus
WANT MORE INSIDER NEWS? SUBSCRIBE TO OUR DIGITAL MAGAZINE NOW!
FOLLOW US ON: LinkedIn, Facebook, Twitter