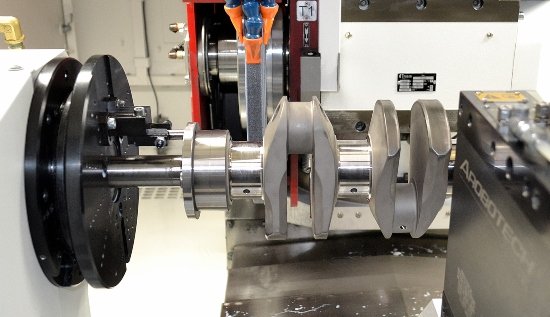 Arrow Precision Relies on STUDER Grinding Tech
Increasing global demand for Arrow Precision's crankshafts recently prompted a search for a premium quality, highly-productive grinding machine that had the capabilities to grind crankshaft main bearing journals and pins to the company's challenging dimensional and surface finish standards. Here's what drove the company to select Studer.
Established in 1974 by David Arnold, and currently under the direction of David's son Ian, Arrow Precision continues to abide by the founder's guiding principles of quality, innovation and service. The Hinckley, Leicestershire-based business' highly skilled workforce have access to a wide range of premium quality machine tools enabling the company's high-quality connecting rods and crankshafts to deliver ultimate levels of performance.
Having gained a global reputation for the components it produces, Arrow Precision now supplies three main automotive sectors. The company manufactures OE connecting rods and crankshafts for use in performance production road cars for prestigious customers throughout the world. In addition, a custom service is provided offering unique forgings, custom designs and the one-off manufacture of complete sets of rods for classic and vintage cars. Last but not least, the motorsport industry's insistence on dealing with vendors with high-levels of technical expertise, flexible manufacturing process, and fast delivery times, means that Arrow Precision is now a major supplier to this most challenging of automotive sectors.
Increasing global demand for Arrow Precision's crankshafts recently prompted a search for a premium quality, highly-productive grinding machine that had the capabilities to grind crankshaft main bearing journals and pins to the company's challenging dimensional and surface finish standards. Having assessed several machines from leading manufacturers against a demanding list of criteria, a practical demonstration of a Studer S41 CNC universal grinding machine convinced Arnold that the advanced Studer offering was the ideal answer to the company's requirements.
The S41
With distances between centres of 1,000/1,600 mm, centre heights of 225mm/275mm and the capability of machining workpieces with a maximum weight of 250kg, the Studer S41 CNC universal cylindrical grinding machine was designed to accommodate medium to large workpieces. While majority of daily grinding tasks can be efficiently performed on the machine, the S41 can also be configured for single-purpose use.
Studer's S41 boasts a wide range of advanced technical features, such as the StuderGuide guideway system, high-precision axis drives with linear motors, and extremely fast direct drive of the B-axis, ensuring great flexibility, high precision and short auxiliary times. Given the diverse nature of the S41's users, potential customers are able to choose from a large number of wheelhead variants. With up to four grinding wheels, the S41 fulfils virtually every requirement for complete machining.
The S41 is based on a robust Granitan S103 mineral casting machine bed. Developed and produced in the company's own plant using the most modern industrial techniques, The advantageous material structure, has proven its value over many years. The excellent dampening characteristics of the S41's machine base ensure outstanding surface quality of all ground workpieces. The use of Granitan S103 extends the service life of the grinding wheels, leading to reduced downtimes. In addition, temporary temperature fluctuations are compensated by the favourable thermal behaviour of this remarkable material.
The Studer S41's versatile universal workhead enables both live spindle grinding and grinding between centres. The machine can also be fitted with a specially designed chuck workhead for chuck applications. The workhead is mounted on low-maintenance roller-bearings that have an excellent roundness accuracy of below 0.0004mm (optional, 0.0002mm). Fine adjustment allows for cylindricity corrections in the 1µm range during live spindle operations. As with the machine's tailstock, its workhead is also equipped with an air cushion lift-off to simplify movement during setup and resetting.
The machine's direct-drive workhead is primarily used for live spindle grinding of heavy workpieces and for high-precision C-axis applications. When form grinding, the range of parts is expanded by the design configuration of the S41's direct drive. This design also allows the installation of a high-precision measuring system directly on the spindle.
To an ever-increasing extent, the claim of 'complete machining' includes the ability to efficiently perform accurate form and thread grinding operations. These processes are made possible by the position of the S41's speed-controlled C-axis. The standard C-axis with measuring system on the drive motor is suitable for thread grinding. A direct measuring system is mounted on the workhead spindle (C-axis) to ensure the highest form accuracy. Acceleration and grinding forces are absorbed without difficulty through the high dynamic rigidity of the axis drives.
The machine's generously dimensioned tailstock barrel, designed for the deployment of Morse 4 taper centres, glides in the tailstock housing. Its centre pressure can be adjusted with the delicate precision required for grinding high-precision workpieces. If required, the tailstock can be equipped with a hydraulically actuated barrel retraction for workpiece changeover. Fine adjustment enables cylindricity corrections in the range below 1 µm when grinding between centres. An air cushion lift-off facilitates simple movement during setup and resetting. A cooling lubricant is passed through the tailstock and totally covers the barrel and diamond holder, to guarantee optimum thermal stability.
Promise delivered
The recently installed S41 is now fully operational on two-shifts and delivering on all of the claims made by Studer. Also, in some areas the machine is exceeding Arrow Precision's expectations. For example, as the flexible machine can perform both external and internal precision grinding tasks, in addition to the external grinding of crankshafts journal and pins, the S41 is used to grind internal features such as flywheel location bores. Crankshaft bores that previously took 30 minutes to grind on a manual machine now take less than three minutes to complete. As well as producing outstanding levels of surface finish on crank journals and pins, the Studer S41 is now achieving sub-micron levels of diameter grinding accuracy.
"As demand for our crankshafts has grown to such an extent that a strain had been placed on our existing grinding resources, we decided to source a new, high-precision CNC universal cylindrical grinding machine," Arnold explained. "As achieving the specified diameter and surface finish characteristics of crankshaft journals and pins constitutes, the most critical crankshaft machining process, the highest standards of precision grinding is of paramount importance, therefore our new grinding machine needed to be of the highest possible technical standard."
Since the company manufactures crankshafts in series production and in short runs, in addition to producing runoffs, it re required a machine with great flexibility and quick change over times.
"Furthermore, as we are often tasked with manufacturing crankshafts with really short lead times by our autosport customers, we needed a fast, extremely efficient machine," said Arnold. "In addition to the S41 proving its outstanding flexibility, speed and technical capabilities, it helped our purchasing decision that we were aware of Studer's excellent reputation for the quality of the company's machines and for if its levels of customer service. The assistance provided by Mark Maurice of UK Studer agent Micronz was invaluable in helping us to specify the machine, arranging a demonstration at Studer's HQ in Switzerland, ensuring a trouble-free installation and organising our operators' training.
"As our operators received excellent on-machine training, and as Studer's controls and software is so intuitive, our staff soon mastered the S41. Although, it helps that on the rare occasion that we have a problem, Studer personnel are just a phone-call away and able to provide and instant solution.
"Not only has the exceptional speed and efficiency of our new Studer CNC universal cylindrical grinding machine removed the possibility of production bottlenecks from our grinding department, the extra capacity it has created and the additional capabilities it provides has opened-up addition commercial opportunities for us.
Check these articles out:
Reducing Energy & Lubricants In The Automotive Industry
Walter Ewag: Helitronic Vision 400 L tool grinding machine
WANT MORE INSIDER NEWS? SUBSCRIBE TO OUR DIGITAL MAGAZINE NOW!
FOLLOW US ON: LinkedIn, Facebook, Twitter