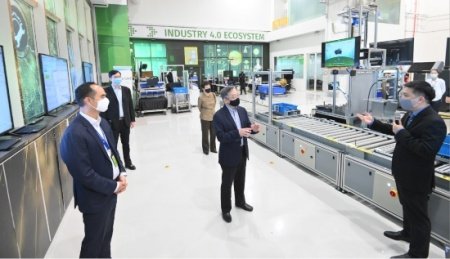 A*STAR And Arcstone open S$18M Joint Lab To Accelerate Digital Manufacturing In Singapore
The Agency for Science, Technology and Research (A*STAR) and local manufacturing software company Arcstone opened a joint laboratory at A*STAR's Advanced Remanufacturing and Technology Centre (ARTC) to develop smart manufacturing solutions to help businesses speed up digital transformation to make operations more efficient, effective, and sustainable. Minister for Trade and Industry Mr Gan Kim Yong graced the joint lab's opening.
This era of Industry 4.0 allows for real-time extraction and monitoring of operational data, as well as the ability to control machines digitally and remotely. Today's manufacturing execution systems (MES) face limits, however, such as in the optimisation of production processes. Against this backdrop, A*STAR and Arcstone will collaborate to give today's MES added intelligence – or "adding a brain to the body", as Arcstone says.
With a total investment of S$18 million over three years, the A*STAR-Arcstone joint lab will transform Arcstone's existing solutions into a next-generation MES suite. The MES will incorporate technologies such as artificial intelligence and the Industrial Internet of Things (IIoT) to help manufacturers make better decisions – through visualisation, control, optimisation, and sustainability. For example, the MES will not only provide information about what is happening in a production process in real time but also recommend ways to improve that process, such as by optimising production scheduling.
Manufacturers, including local SMEs, will be able to tap on these smart manufacturing solutions to increase manufacturing transparency and improve production scheduling across the supply chain, paving the way for more competitive and robust supply chains. The solutions will also help manufacturers go green by enabling them to optimise energy usage. The joint lab will place special emphasis on the user-interface for the MES, making it easy to configure and use, especially for first-timers. The joint lab will work on projects in the following areas:
Improve production through real-time visibility
Control production using IIoT technologies
Optimise production using simulation and artificial intelligence
Make production greener through data and optimisation
Collaborating with A*STAR will help Arcstone halve the time needed for its own R&D to achieve its goals. The joint lab aims to create about 30 engineering jobs over the next three years.
Professor Alfred Huan, Assistant Chief Executive, Science and Engineering Research Council, A*STAR, said, "The challenging economic environment sends a reminder to many companies of the constant need for innovation to stay competitive. At A*STAR, we collaborate with companies such as Arcstone to help them build new capabilities to move up the value chain. Such public-private partnerships continue to play an important role in encouraging businesses to adopt technologies to differentiate themselves from the competition. This collaboration with Arcstone is also an example of how local SMEs can deploy their new solutions to help other local SMEs speed up digital transformation in their factories, driving increased digitalisation across the board."
Mr Willson Deng, Chief Executive Officer, Arcstone, said, "Our goal with the joint lab is to rapidly produce cutting-edge technology to give SMEs and global manufacturers a leg up in efficiency, productivity, and most importantly, long-term sustainability and environmental competitiveness. We are confident about achieving this goal, for we have in ARTC a trusted R&D partner that will bring us results – we know this from years of collaboration with ARTC's scientists and engineers."
Check these articles out:
Stratasys Launches Vulcan Labs To Advance Powder-Bed Fusion Technology
TRUMPF And Fraunhofer IPA Research Alliance Ramps Up AI For Industrial Use
How Digitalisation Is Transforming The Aerospace Sector
Siemens Launches Advance Manufacturing Competence Center in Singapore
For other exclusive articles, visit www.equipment-news.com.
WANT MORE INSIDER NEWS? SUBSCRIBE TO OUR DIGITAL MAGAZINE NOW!
FOLLOW US ON: LinkedIn, Facebook, Twitter