EDM: Past, Present and Future
As the industry moves toward Industry 4.0, EDM machines are expected to become more intelligent as manufacturers incorporate more and more advanced functionality to enhance the productivity and efficiency of the system. Article by Makino.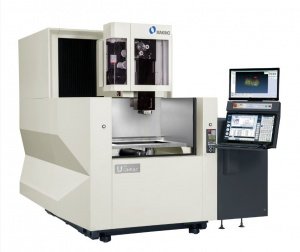 The electrical discharge machining (EDM) process utilises short bursts or pulses of electrical energy to erode and machine conductive materials. This process can be thought of as machining with lightning bolts, called sparks. With EDM, the number and power of each spark can be precisely controlled, thus, by modifying the amount and power of the discharge spark energy, the material removal rate, attained surface finish and resulting accuracy can be predictably and repeatedly controlled.
While EDM is commonly thought of as a slower form of metal removal compared to conventional milling and some other processes, recent advancements in EDM technology have led to significant improvements in processing times and finish quality for even the most complex and involved part geometries.
But what has now become an essential process for die/mould shops, aerospace, automotive and other manufacturers humbly began with a failure.
Brief History of EDM
In the early 1940s, two scientists in the former Soviet Union, B.R. Butinzky and N.I. Lazarenko, experimented with methods to prevent erosion of tungsten contacts caused by electrical sparking during welding. Although they didn't find a better welding method, they discovered how to control metal erosion by immersing the electrodes in oil or water. From their research, Butinzky and Lazarenko built the first electrical discharging machine for processing metals that were difficult to machine with conventional milling, drilling or other mechanical methods such as tool steel and titanium.
Butinzky and Lazarenko drew on ideas developed by English physicist, Joseph Priestley, who wrote about the erosive effects of electricity on certain metals back in the 1770s. The Russians' early work became known as spark machining because electrical discharges caused sparks that could be controlled to manufacture specific shapes.
Machining with Electricity
In conventional machining, the material is removed by cutting tools that turn or grind against the workpiece with a mechanical force. In the EDM process, sparks of electricity create short bursts of high energy that instantly melt and vaporise the material without making contact. Due to the non-mechanical and non-contact machining process, EDM is referred to as a "non-traditional" type of manufacturing.
The key to EDM machining is the passage of electricity from a tool (electrode) to the workpiece, which must be composed of conductive material like steel or aluminium. The tool, which can either be a small diameter wire, hollow tube, or an electrode mechanically machined into a negative version of the workpiece's final shape, is then placed and maintained in close proximity to the workpiece during the EDM spark erosion process.
EDM technology has evolved into three distinct machining approaches:
Wire EDM: Wire EDM uses a small diameter copper or brass-alloy wire to cut parts much like a band saw. Traditional uses are to make punches, dies, and inserts from hard metals for die/mold tooling applications. Uses have since expanded to include part production uses over a wide array of industries.
Sinker EDM: Sinker EDM uses electrodes machined from a special graphite or copper material into the shape or contour feature needed on the final workpiece. Typically, uses include the production of small or complex cavities and forms for die/mould tooling, but have also found use in many production applications.
EDM Drilling: EDM drilling uses a small diameter hollow tube electrode made from copper or brass alloys to erode holes into the workpiece. This method is typically used to prepare start holes for the wire EDM process, but have also progressed to producing small hole features found in dedicated production applications such as turbine engine components and medical devices.
Why Use EDM
One of the key advantages in EDMing is the machine's capability to work on small corners that cannot be cleared by the milling process. Also, when it comes to precision parts, very small work pieces are prone to damage when machined with conventional cutting tools because of the excess cutting pressure. You won't have this issue with EDM.
With conventional cutting, extremely hard materials will affect the high wear rate of the cutter. This is not the case for EDM. In fact, apart from cutting these hard pieces of materials, the EDM process also provide excellent surface finishes.
Moreover, EDM enables the processing of complex shapes that would otherwise be difficult to produce with conventional cutting tools.
Over the years, many new machine technologies have helped improve the performance of EDM systems, enabling higher cutting speeds to produce parts faster than before.
One example of the latest technologies in EDM is Makino's U6 H.E.A.T. Extreme wire EDM, which features an industry first 0.4mm (0.016") coated wire technology that increases rough machining rates up to 300 percent compared to traditional 0.010" brass wire, while maintaining comparable wire consumption rates of 0.6–0.7lbs/hour. As a result, the new machine is able to significantly improve rough machining speed without increasing manufacturing costs.
Addressing the Labour Skills Challenge
Despite the advancements in EDM, there continues to be challenges facing the segment. One issue is labour, in particular, the lack of skilled EDM operators.
As new technologies are being incorporated in EDM, the need for programming skills, and the setting up and operation of more complex machines with more and more functionality are increasing. This, in turn, requires more knowledge and skills needed for ordinary operators.
One way of addressing this is the introduction of Industrial Internet of Things (IIoT) applications for EDMs to reduce the otherwise long learning curve required by the system, enhance user experience and efficiency, and reduce machine downtime.
Makino's expanded Hyper-i Control family and Remote Monitoring features intuitive, intelligent, and interactive functions that utilise familiar smartphone/tablet functionality that provide operators with a powerful and user-friendly interface.
Its unified control system for both wire and sinker EDM machines provides operators with enhanced functions to improve productivity, regardless of operator skill level. The large 24" class HD touch-screen display provides a commanding view for the operator and utilises intuitive and familiar touch Pinch/Swipe/Drag operations similar to smartphones and tablets.
Straightforward machine operation is accomplished on the Hyper-i Control with a three-step process of Program/Setup/Run flow, and there are many helpful intelligent tools and functions for the operator that provide greater convenience and flexibility, such as the standard full-function advanced Handbox. In addition, digital onboard electronic manuals, instructional training videos, and the advanced E-Tech Doctor help functions provide the operator with practical resources at their fingertips to remain highly productive.
Another EDM technology from Makino is the HyperConnect application, which facilitates machine-to-machine connectivity. HyperConnect is a suite of IIoT applications for EDMs that enhances user experience and efficiency and reduces machine downtime. They are available on all Makino EDMs equipped with Hyper-i control systems. Some of the features of HyperConnect are as follows:
The app enables shop managers and operators to monitor and control EDM processes from any PC, smart device, or other Hyper-i control systems on the network. It has four primary connectivity features for shop personnel to monitor, plan, and troubleshoot EDM operations.
EDM Mail relays machine status information to operators via email during unattended operation to help reduce downtime and support multitasking abilities. It delivers periodic, timed interval updates of a machine's operating conditions and alerts operators of a machine stoppage.
Machine Viewer is an application that permits networked access to the control's NC operation screens, which allows operators to remotely view the machine control and process information from any office environment PC or enabled smart device.
Machine-to-Machine Viewer gives operators remote access to view and control a networked EDM from another machine, preventing unnecessary foot traffic across the shop floor.
PC Viewer provides operators with remote access to all software on a networked PC directly via the control and includes accessibility to any CAD/CAM software, specialized shop tracking software, and Microsoft Office applications.
Future of EDM
It's been a long time since the discovery of EDM for metalworking. As the industry moves toward the fourth industrial revolution, EMD machines are expected to become more intelligent as manufacturers incorporate more and more advanced functionality to enhance the productivity and efficiency of the system.
One way "intelligence" is being added to the machine is through voice-enabled machine interaction. It is just like your iPhone's Siri—but instead of asking for directions or calling a certain person in your address book, you are giving instructions to a machine regarding the processing or machining of a particular workpiece.
Makino is the first adopter of ATHENA, the first ever voice-operated assistant technology created specifically for manufacturing work. Developed by iTSpeeX, ATHENA is designed to enable operators of all skill levels by simplifying human interactions with industrial machines. For example, with one voice request, ATHENA can search through a machine's maintenance manual and display the needed information right at the machine.
This will give operators more ease of control and will not just save time in training and onboarding new machinists, but also in giving experienced machinists the information they need when and where they need it.
Read more:
Metal Removal? There's A Robot For That!
Improving Metal Cutting Productivity With A High-Powered Sawing Machine
Global Metal Cutting Tools Outlook
WANT MORE INSIDER NEWS? SUBSCRIBE TO OUR DIGITAL MAGAZINE NOW!
FOLLOW US ON: LinkedIn, Facebook, Twitter