EMO 2019: ANCA To Launch Latest Generation Of ToolRoom Software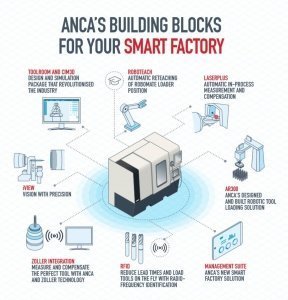 Leading cutting tool manufacture Fraisa, reduced set up from hours to five minutes through the new tool balancing feature in ANCA's new ToolRoom RN34. A specially designed software package for the aerospace, die mould, general machining and power generation industries, the product will officially launch at EMO 2019. Customers can get improved productivity or minimise chatter through the intuitive design of high performance, complex endmills.
"ToolRoom RN34 is aimed to be the differentiator among many suppliers of endmill manufactures in the industry by allowing customers to design complex geometries through software to achieve increased tool life, productivity, cutting volume and increased quality and precision of the workpiece" says Thomson Mathew, ANCA Software Product Manager.
The constant helix ballnose option, for example, is replaced by a graphical drag-and-drop designer. This ballnose type of tool, with optimised irregular helix curves to reduce vibration, and with near-instant visualisation easily achieved by switching from the 2D projection of the cutting edge to the 3D.
Douglas Franke, Fraisa Production Manager said: "with ANCA's balancing software we have a tool balanced generally within five minutes. Some of our more complex tooling can take a little longer – up to 20 minutes. This drastically decreased our time in setup on the machine which could take several hours. Our biggest success story has been an aerospace customer who is running our 1" aluminium roughing tool at 25k rpm."
Lights Out Manufacturing To Be ANCA's EMO Theme
Toolmakers have always been subject to technological change. Today the future of tool making innovation goes by many names. The Factory of the Future (FoF), the Smart Factory, or Industry 4.0. Whatever it is called, there's one common factor: it's revolutionary, and it will redefine and optimise manufacturing processes. ANCA will be showcasing its technology so tool makers understand how they can Build their Factory of the Future at EMO.
Reduce wasted materials and time through 3D simulation.
Increase grinding efficiencies through informed, data led decisions.
Reap the benefits of lights out manufacturing with affordable, easy to use robots.
Achieve 100 percent tool accuracy through automated in process measurement.
For tool manufacturers this will be a new landscape that places big data analytics and interconnected technology at the heart of daily work. It means streamlined business operations that allows rapid expansion into new and emerging markets and technology throughout the process to remove the need for human intervention.
Change will not happen in one radical moment. For almost 50 years ANCA has been on the journey to help our customers move towards a smart factory solution. Every world-first technology development we've introduced, from 3D simulation software to Laser Plus, our in-process measurement system, to RoboTeach, which makes robotic loaders accessible and easy to program, has been iterative rather than completely revolutionary.
WANT MORE INSIDER NEWS? SUBSCRIBE TO OUR DIGITAL MAGAZINE NOW!
FOLLOW US ON: LinkedIn, Facebook, Twitter