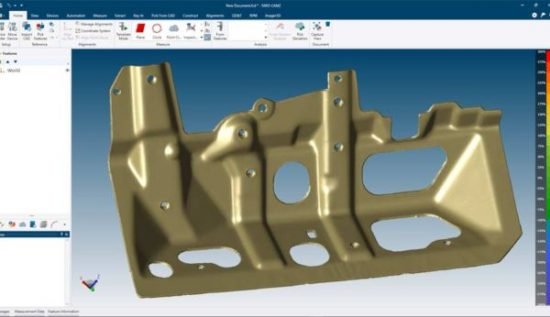 Faro Launches Enhanced 3D Measurement Software
Faro has released CAM2 2019, an evolution of the well-received CAM2 2018 3D measurement software introduced last year. CAM2 2019 sets a new standard for intelligent metrology via improved ease of use, interactivity, flexibility and targeted, actionable intelligence. In addition to the tight integration with Faro metrology products that enables a seamless user experience, CAM2 2019 extends the narrative for high value interactivity and usability.
For example, 6Probe users are now able to program button configurations and then interact with the software through the device in real time. Additionally, Faro Laser Line Probe users can benefit from immediate visual feedback of part quality via live deviation colour scans. Finally, with built-in universal CAD importer, all major CAD file formats can be directly imported into CAM2, thereby improving the workflow by eliminating the need for time consuming 'double translations.'
CAM2 2019 features a standard set of software instructions that automatically guide the user through specific operations, visually and audibly. This lowers the bar for the technical expertise required to use Faro 3D measurement solutions, shortens the workflow and allows users to direct their primary focus on the measurement results themselves. Additionally, pre-set scanning profiles further streamline the end to end process by enabling users to select the appropriate scan setting for the specific part type with the click of a button.
CAM2 2018 featured the Repeat Part Management (RPM) Control Centre, an integrated, web-based dashboard reporting tool that delivers real time inspection results and insightful trend analysis in a user-friendly set of adaptable visual reports. Additionally, RPM enables a specific inspection process to be designed once and then repeated and executed by anyone on the factory floor. CAM2 2019 evolves this functionality to actionable intelligence by delivering statistically based graphs and results for trend analysis and predictive alerts. These alerts not only highlight that the measurement target is trending beyond tolerances, but also provide advanced intelligence into the process and why the situation is occurring.
FOLLOW US ON: LinkedIn, Facebook, Twitter
READ MORE IN OUR LATEST ISSUE! 
WANT MORE INSIDER NEWS? SUBSCRIBE TO OUR DIGITAL MAGAZINE NOW!