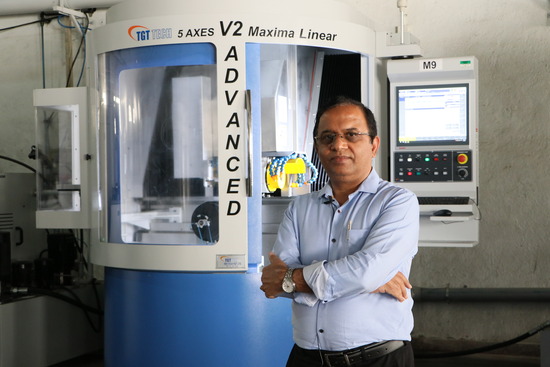 FORTiS Enclosed Encoder Enhances Grinding Precision And Performance
After testing and evaluation, TGT selected Renishaw's FORTiS enclosed encoders for its latest series of tool grinding machines. The ease of installation and other leading-edge features of the FORTiS encoder system enable TGT to optimise its machines' performance.
---
Rule Of Thumb
Many factors affect the machining accuracy of a CNC machine tool, including machine mechanics, control electronics, machine rigidity, thermal stability and geometric accuracy of the cutting tool. Small cutting tools require precision grinding to ensure accurate tool geometries.
Precision tool grinding is a machining-based production process that uses abrasives to obtain the required geometry and dimensional tolerances for a cutting tool. Demand in India for precision machining has hugely increased, such that India's machine tool market is now one of the fastest growing in the world.
To seize this opportunity and meet the increasing demand, India-based company, Tool Grinding Technologies Inc. (TGT), has developed a range of precision tool grinding machines equipped with linear motors and Renishaw's FORTiS enclosed absolute position encoders, which help to improve machining accuracy and process stability.
Constant Challenge
Linear motor technology has matured in recent years and became important in industrial applications. Modern linear motor designs have achieved significant improvements in heat dissipation, thrust and cost.
Automation systems and CNC machines, such as precision grinding machines, increasingly use linear motors in place of traditional ball screws. The precision and accuracy of a linear motor servo is heavily influenced by the quality of the linear position feedback from the encoder.
Sub-Divisional Error (the measurement error within one signal period) is a critical specification for smooth velocity control, which, as tool grinding machine manufacturers know, is important for surface finish quality. Low positional jitter allows optimisation of servo loop gain.
Read more about it —> https://rb.gy/suke6l
What You Missed:

Samsung's Smartphone Shipments Drop By 8 Percent In Global Markets In Q3 2022
Versatility Of Waterjet Helps Global Companies
India Signs Deal With Belgium-Based IMEC For Chip-Making
The Investigation Status Quo of the Environmental and Free-Cutting Brass
BYD Takes Commanding EV Patent Lead Among Chinese Rivals
Predictive Maintenance in Oil & Gas Industry: The Complete Guide
How Much Does It Cost To Set Up Semiconductor Fab In India?
Automotive And Construction Named As Key Drivers For ASEAN's Metal Forming Tools Growth
Optomec Receives US$1.5 Million Contract for Additive Repair Of F35 Large Titanium Blisks


WANT MORE INSIDER NEWS? SUBSCRIBE TO OUR DIGITAL MAGAZINE NOW!
CONNECT WITH US:  LinkedIn, Facebook, Twitter
Letter to the Editor
Do you have an opinion about this story? Do you have some thoughts you'd like to share with our readers? APMEN News would love to hear from you!
Email your letter to the Editorial Team at [email protected]