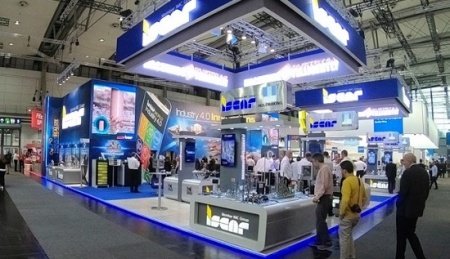 ISCAR CTO Stresses On Productivity Improvement
Erich Timons, CTO of ISCAR Germany GmbH, speaks with Asia Pacific Metalworking Equipment News about tooling trends and challenges, and how the industry should move forward by improving productivity. Article by Stephen Las Marias.
From its humble establishment in 1952, ISCAR has grown to become one of the biggest tool manufacturers in the world, operating in more than 50 countries and having over 50 global subsidiaries. Based in Israel, the company—a part of the IMC Group—provides innovative cutting tools for the metalworking industry.
At the recent EMO Hannover 2019 event in Germany, Erich Timons, CTO of ISCAR Germany GmbH, the second biggest subsidiary of ISCAR worldwide, speaks with Asia Pacific Metalworking Equipment News about tooling trends and challenges, and how ISCAR is helping their customers improve their productivity.
What are the biggest tooling challenges for your customers?
Erich Timons (ET): Our customers are always asking for more productivity; how they can produce as quickly as possible. They are also concerned with how they can make their manufacturing process safer and more efficient.
Where does ISCAR come in? How are you helping your customers in their manufacturing challenges?
ET: What we do is analyse the company's processes. What we like to do is not just to look for one tool, but to build up a new and complete process—finding out how we can save time by increasing the speed or the feed, or using a combination of tools, to reduce the number of total tools and to make the production faster.
What industries are driving the tool market right now?
ET: Germany is driven by the automotive industry. Overall in Europe, I think it is nearly the same. Fifty percent of our total revenue comes from the automotive industry, so we are highly driven by the changes in the automotive sector. Having said that, we see that automotive customers are going to be even more flexible because they must deal with a wide variety of engines right now, unlike in the past where we had only one kind. Some automotive OEMs in Germany even have four of five different engines that they are producing in one line—therefore our tooling needs to be more flexible than in the past.
Asia is quite similar to Europe. Looking at markets like China, for example, you will see a big automotive industry. Volkswagen, for instance, had opened a lot of subsidiaries and a lot of plants in China; and we are working really closely with them. I think this is one of our biggest advantages, because we are in close contact with our partners in China.
Meanwhile, Thailand is a big and growing market; the same as Vietnam, which is also growing. We also see the Philippines as a potential market. We are really strong in South Korea, not only with ISCAR but another IMC partner, Taegutec, where we have a big production unit there. Overall, we are supporting all of Asia from Germany.
As much as you want the tools to be long lasting, you still have to sell a lot of it. how do you manage that compromise, ensuring tool life but selling more?
ET: Sometimes, what I tell the customer is that we are providing a long tool life, but at the end, you have to break a tool to make some money. Besides productivity on the machine, we also see a big change in the tool setup. This is a big issue in a lot of companies—they have to invest a lot of time in making the tool setup. The reason for this is to not only to see what happens inside the machine, but also to ensure that the customer can make changes easily with the inserts or the drill, for example. So, it is really important to make the setup not too complicated.
What are some of your product highlights at the show?
ET: ISCAR is well known in parting because our roots come from this application. We have a brand-new tool here, the MULTIFGRIP. Parting is still the bottleneck in the production, so with this tool, the customer can go each feed they want in parting. With this tool, we can also measure the forces and the vibration, you can connect it to the machine, and you can adapt the influence of the feed and the speed to have a production without any vibration at all.
What is your strategy towards Industry 4.0?
ET: There are different ways to support Industry 4.0. First of all, we have an app, ISCAR World, which includes many features. For example, you can go to the electronic catalogue and build a 3D model of the assembly of the tools to use in your CAM system. You can have a recommendation on the cutting speed and feed for your application by using the ITA (ISCAR Tool Advisor). With Industry 4.0, it is not only the hardware but also the digital twin of the tool. That is one point.
Another Tool is our MATRIX System. MATRIX is not only a vending machine. Its connected to any ERP System at our customer and help to balance inventories to an optimum ratio.
With these solutions including intelligent tools we support our customers in all areas of their production.
Industry 4.0 is not one feature—it is everything working together, from the beginning until the end of production.
What is your outlook for the metalworking industry over the next year?
ET: In the automotive side, we will see a lot of changes within five to 10 years because everybody is talking about e-mobility. But I think we also have to look on new materials, as well as develop tools that are more user friendly. We also have to look for production and productivity improvement, as well as flexibility. There are a lot of things we have to cover. It will also be very interesting to see the development of Industry 4.0. Overall, it will be a challenge.
Do you have any final comments?
ET: I am very excited to see what will happen at EMO because we've seen a slowdown in the industry. Everybody is looking at the negative trends, but I am looking to the positive side, because I believe the metalworking industry is not going to die. Don't look at the bad side. I think this is the year of positive things, because now, the customers have time to evaluate their production. Now is the time to be really agile, to be fast and flexible, and to look how to improve.
Don't wait for the industry to get better; now is the time to start improving your production.
For other exclusive articles, visit www.equipment-news.com.
Check these articles out:
Bosch Rexroth, Siemens Joins Sodick, PBA Group in JID's Advanced Manufacturing Ecosystem
Sandvik Coromant To Showcase Digital Solutions For Machining Processes At EMO 2019
ITAP 2019: Stay Ahead, Stay Relevant
Marposs Supports The DIGIMAN Project
WANT MORE INSIDER NEWS? SUBSCRIBE TO OUR DIGITAL MAGAZINE NOW!
FOLLOW US ON: LinkedIn, Facebook, Twitter