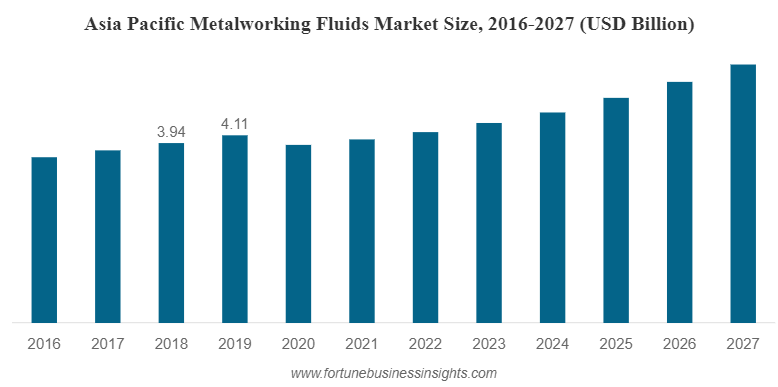 Metalworking Fluids Market Outlook By Industries And Areas
The global metalworking fluids market size was US$10.25 billion in 2019 & it is projected to reach US$11.60 billion by 2027, at a CAGR of 4.3 percent in the forecast period.
Source: fortunebusinessinsights.com
---
Metalworking fluids are used daily in several industries for operations such as milling, drilling, cutting, stamping, and grinding. Moreover, there is a constant change in the composition of these products due to the changing regulations, formulation, and also due to the pressure from regularity bodies around the world.
Implications From COVID-19
The strict measures taken to curb the spread of the coronavirus have affected several industries including automotive, building & construction, and production units of various manufacturing plants. For instance, in India, the effect of COVID-19 is so severe that the automotive industry is growing at a rate of -50 percent which is significantly less than in 2019.
The pandemic has resulted in a huge supply-demand gap and it is directly affecting the production chain of the industries. Supply chain disruptions, manpower crunch and a slowdown in logistics has reduced the demand for any industrial activity, in turn affecting the industries that are highly dependent on metalworking fluids. These factors are likely to hit the market globally.
Demand For Bio-based Fluids Is Likely To Rise Over the Forecast Period
Due to the restrictions imposed owing to ecological issues on human exposure of cutting fluids, meta removal fluids manufacturers, as well as consumers, are getting inclined towards bio-based products. It is fully biodegradable and renewal as its formulation is completely based on synthetic esters and vegetable oils.
Moreover, they also fulfil the health and safety criteria set by various government bodies. Major players such as Shell, ExxonMobil, BP plc, and Total SA are already competing with their bio-based products. Now-bio-based fluids hold a low share but it is expected t expand in the upcoming years.
Growing Demand from Automotive and Transportation Industry To Drive The Market
The recovery of the automotive sector, especially in the United States post-recession is expected to augment the growth of metalworking fluids over the forecast period. As per JP Morgan, the US auto industry is making a V-shape recover which is likely to support the overall recover of the market.
Moreover, emerging economies such as India, China, Russia and Brazil have witnessed significant growth in the automotive and transportation industries, especially manufacturing sectors. The increasing production of vehicles is the major factor influencing the demand for these products. Besides automotive industries, aerospace, railways, marine, and defence industries are contributing to the growth.
Furthermore, these fluids continue to be used extensively in the machinery industry. The machine shop is the core of the manufacturing sector, as manufacturer not only focus on productivity and cost-cutting but on the adoption of sustainable processes and technologies for long term business. The latest machinery industry includes machine shops that are buckling up for the manufacturing of customised specialty products which are expected to drive revenue growth in the coming years.
Stringent Regulations On The Usage Of Metalworking Fluids To Confine Market Growth
The major goal and intention of the government agencies is to protect the people, environment and workers from hazards, which are closely related to industrial manufacturing. Thus, there are many agencies working for minimising the environmental hazards caused by these fluids. Some of the agencies working closely on this include EPA (Environmental Protection Agency), OHSA (Occupational Safety And Health Administration), NIOSH (The National Institute For Occupational Safety And Health) and OSH (Canadian Centre For Occupational Health and Safety). These agencies have imposed several stringent regulations that are restricting production.
Neat Cutting Oils Segment To Generate The Highest Revenue During The Forecast Period
The neat cutting oils segment holds the largest metalworking fluids market share. Neat cutting oils are usually used for heavy-duty cutting gears such as tapping, broaching, hobbing, grinding and drilling operations. They mainly act as lubricants, as fatty acids are mainly incorporated in it.
Water cutting oil segment holds a prominent share in the global market, as water is the best solution for cooling. Water is easily available and possesses the best heat-carrying capability. Unlike neat cutting fluids, water cutting oil does not possess lubrication properties and thus it can also lead of corrosion.
Corrosion prevention oils are an integral part of the market, as they are widely used for preventing rust formation and corrosion on workpieces, machine parts, machining tools and metal tools. The chemical composition of corrosion prevention oils varies according to their chemical structure.
Synthetic Segment Holds Share Majority
In terms of type, the market is segmented into mineral, synthetic, and bio-based. Mineral grade metalworking fluid is most commonly used as it is cost-effective than synthetic and bio-based fluids. Moreover, these fluids are predominantly used as a working fluids for lubricating and cooling purposes. Mineral oil generally consists of one or more refined mineral-based oil, together with pressure additives and anti-corrosion additives.
The synthetic segment holds the largest share in the global market. Synthetic fluids do not contain oil generated from petroleum. In synthetic oil, end-users mostly use detergent-like components and other types of additives to moisten the workpiece. Operations performed using synthetic and semi-synthetic oils are more pleasant to work with as t the shop floors are less oily and slippery. Machines also stay cleaner as less dirt and oil are deposited on the surfaces.
The bio-based segment holds a smaller share in this market as the customers are not convinced using bio-based fluids. Moreover, its limitations such as inadequate availability and relatively high price are expected to affect the market for bio-based fluids and thus expected to grow at less CAGR.
Automotive & Transportation Segment To Exhibit A Significant Growth Rate
Automotive manufacturers extensively use metalworking fluids for the manufacturing of various automotive parts and equipment, and thus, the automotive & transport segment holds the largest share inn the metalworking fluid market. Further, they are closely connected to the automotive industry as large volumes of sheet metal and finished components are supplied to this industry.
Other transportation industries such as marine and aerospace have several applications of these fluids for the manufacturing of their big parts of components. The demand for these fluids for construction applications in increasing owing to the rise in building and construction activities.
These fluids are extensively used in steel shaping and cutting processes. These products are also used in the manufacturing of construction equipment such as bulldozers and others. Thus, these products hold great significance in construction applications. The other multiple applications include electrical and power, agriculture, telecommunication and healthcare. Electrical and power also held a prominent share in their market due to the demand from applications such as gas and steam turbines, wind turbines, engines and transformers.
Machinery Segment To Grow At An Impressive Rate
Metalworking fluids have major applications in the machinery segment. These fluids are majorly used in workshops for the forming and cutting of metals. The main purpose of the fluids is to cool the surface, lubricate tools, work-piece, and machinery Several types of machinery operate in different industries such as automotive, electrical and power, construction and these fluids play and important role in overall manufacturing efficiency within these industries.
Metalworking fluids are used in the manufacturing of various transport equipment such as cranes, conveyors, trucks and others. An increase in demand for transportation equipment due to rising construction activities is augmenting the demand for these products. Furthermore, they are also in metal fabrication operations such as metal shaping, surface finishing and surface preparation for industries such as furniture, domestic appliances, defence, and others.
Asia Pacific is anticipated to remain as a key region in the market during the forecast period owing to the rising demand from the automotive & transportation industry. The market in this region holds the highest share owing to the robust manufacturing base in China and India. Strong support and initiatives taken by the governments of China and India for the manufacturing sector are aiding dominance of the region in terms of market share.
Emerging economies such as China and other Southeast Asian countries have witnessed significant growth in their manufacturing sectors. Growing consumption, coupled with favourable regulations, is likely to attract the market. Moreover, rise in demand from the automotive sector is expected to promote the demand in this region over the forecast period.
North America is one of the prime consumers and it also follows strict environmental protection policies imposed by EU Ecolabel, and OSHA. On the other hand, Europe is projected to witness significant growth in the global metalworking fluids market. Robust automotive manufacturing base in Germany and Russia is the key factor driving the market for metalworking in Europe. Latin America and the Middle East and Africa would showcase lower growth in this market compared to the other regions owing to fewer manufacturing units and low demand due to less population in these regions.
What You Missed:

Electric Vehicles May Charge Faster Than Your Phone
BYD Reportedly Looking To Start Building Electric Cars In Europe
India May Be The Next Semiconductor Producer
Toyota Output Shrinks For Fourth Month On Shortages, China Curbs
Vietnam Boosts FDI Attraction In Automotive Industry
Volkswagen To Speed Up Electric Vehicle Transition
Great Wall Motor Thailand Offers Tips For Electric Vehicle Users
Not Enough Lithium Globally To Meet Electric Vehicle Targets
Honda To Set Up China Venture To Procure EV Batteries
WANT MORE INSIDER NEWS? SUBSCRIBE TO OUR DIGITAL MAGAZINE NOW!
CONNECT WITH US:  LinkedIn, Facebook, Twitter
Letter to the Editor
Do you have an opinion about this story? Do you have some thoughts you'd like to share with our readers? APMEN News would love to hear from you!
Email your letter to the Editorial Team at [email protected]