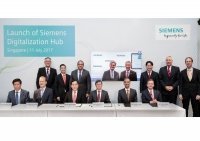 Siemens Open Digitalisation Hub In Singapore
Singapore: Technology company Siemens launched its first fully integrated digitalisation hub in the country.
The launch of the facility was held simultaneously in Singapore and at the company's headquarters in Munich. It was witnessed by Singapore's Prime Minister Lee Hsien Loong—who was in Germany for a work-related visit—via satellite.
The facility will support digitalisation efforts of companies in Southeast Asia's manufacturing, infrastructure and healthcare sectors, and will see the company co-developing future digital applications with customers and partners in building a digital ecosystem.
"Singapore is the ideal location for this hub because of its distinctively advanced industrial and urban infrastructure development, combined with the government's "Smart Nation" thrust to enable a digital economy," said Joe Kaeser, president and chief executive officer of Siemens AG.
A key concept highlighted at the launch was "MindSphere"—an open, cloud-based IoT operating system that offers data analytics, connectivity capabilities and tools for developers, applications and services. The platform helps to evaluate and process data to gain insights and optimise asset performance for maximised productivity.
The facility is supported by the Singapore Economic Development Board (EDB), and data scientists, solution architects, software engineers and system experts at the facility will experiment, learn, develop and test-bed digital solutions that will help businesses become more efficient and sustainable.
At the launch of the facility, the company signed three collaborative agreements with Singapore partners—one of which was the electronic arm of Singapore Technologies Engineering Limited, an engineering and defence technology company. The agreement will see the two companies create digital solutions for transportation, with a focus on connectivity, cybersecurity, data convergence, and data analytics.
APMEN News