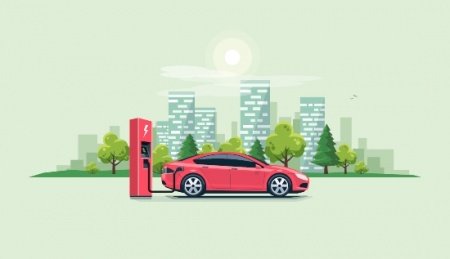 Sustainability A Key Priority For Automotive Sector In 2021 And Beyond
Sustainability will remain a key strategic agenda for automotive companies in 2021 and beyond, with over 75 percent of vehicle manufacturers focused on sustainability in 2020, according to GlobalData. Pirelli & C. SpA, Audi AG and Volkswagen AG were the top companies with mentions of 'sustainability' in their filing documents in 2020.
In the automotive sector, Internet of Things (IoT), sustainability and electric vehicles (EVs) continue to be on top of the agendas for automotive companies. Global production of EVs is likely to reach 7.6 million units by 2025, and tightening regulations are likely to force companies to focus on large-scale investments in sustainability and EVs, or face uphill challenges in the future.
"The EV market has the potential to facilitate clear environmental benefits, coupled with steady and sustainable growth. Hence, even contemporary environmental, social and corporate governance (ESG) reporting frameworks, such as Sustainability Accounting Standards Board (SASB) is also encouraging corporations to report about topics such as Fuel Economy & Use-phase Emissions. Sustainability in general has gained traction in recent times due to regulatory and technical advancements, enhanced social awareness and investor preferences. These have been the major drivers in redirecting the flow of capital from conventional to sustainable automotive businesses," said Srobon Banerjee, Practice Head, ESG at GlobalData.
"As we emerge from the pandemic, the automotive industry is heading in a greener direction with sustainability as a key driver and theme. Not only are we seeing increasing pressures from the market and regulators tilting the industry rapidly towards electric cars, but manufacturers are seeking to reduce their carbon footprints wherever possible and examining activity all along the value chain," added David Leggett, Automotive Analyst at GlobalData.
GlobalData's Job Analytics database also identified rising job postings for electric vehicles. For example, Hyundai has sped up its eco-mobility hiring, while Apple has also stepped up hiring for its future electric car.
Pereira adds: "Another rising trend in the auto sector is the hydrogen fuel cell electric vehicle (FCEV). Mentions of FCEVs and related keywords in all filings rose by around 10 percent in 2020."
By 2040, GlobalData expects passenger cars to be the most prominent new application of hydrogen.
Pereira concludes: "Initiatives by Ford and Land Rover to go all electric in specific regions in the next few years is commendable. Long-term sustainability strategies are necessary for auto companies to regain trust amid several emission scandals, while also avoiding governance laggards."
Check these articles out:
TRUMPF And Fraunhofer IPA Research Alliance Ramps Up AI For Industrial Use
Mercedes-Benz Thailand To Start Local Manufacturing Of Electric Vehicles
Market Outlook For Global 3D Laser Scanners
Thailand To Waive Excised Tax On Full Electric Vehicles
How 3D Printed Titanium Motor Nodes Became A Game-Changer In E-Bikes
For other exclusive articles, visit www.equipment-news.com.
WANT MORE INSIDER NEWS? SUBSCRIBE TO OUR DIGITAL MAGAZINE NOW!
FOLLOW US ON: LinkedIn, Facebook, Twitter