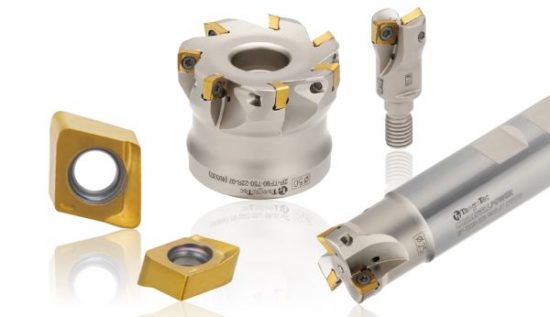 TaeguTec has expanded its ChaseMill Power inserts portfolio with the introduction of the 2PKT 07 insert and related cutters.
TaeguTec's 2PKT 07 insert is a true 90 deg milling line with two cutting edges, and is characterised by a low cutting force during operation. It also has the ChaseMill Power's unique double dovetail shape insert pocket that relieves the insert screw from the cutting load, providing powerful and secure insert clamping. This allows end-users to clamp the 2PKT 07 ChaseMill Power insert with a bigger size screw relative to similar sized, conventionally designed inserts, which protects against unexpected screw or insert failure during operations. Also, the insert's wide wiper enables excellent surface roughness during machining.
The expansion comes in all cutter types—end mill, modular and face mill. End mills and modular types are available in 16-40mm diametres, while the face mills are available in the 40-80mm diametre range. All 2PKT 07 cutters include internal coolant channels and are capable of slotting, shouldering, step down, straight ramping and helical ramping.
FOLLOW US ON: LinkedIn, Facebook, Twitter
READ MORE IN OUR LATEST ISSUE! 
WANT MORE INSIDER NEWS? SUBSCRIBE TO OUR DIGITAL MAGAZINE NOW!