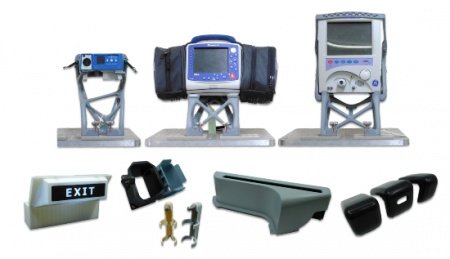 ST Engineering and EOS have collaborated to introduce multiple AM solutions for the aerospace sector—from qualified systems and materials to 3D print certified parts that are more durable and more effective in operations.
ST Engineering's Aerospace sector has been building its portfolio in virtual inventory to enhance customers' air operation performance, including solutions for commonly damaged aircraft components. Printing on demand helps eliminate waste when platforms are retired, reducing non-moving inventory. In addition, with approved digital files and qualified 3D printers & processes, certified parts can be produced close to aircraft sites, vastly reducing delivery-related carbon emissions and improving cost efficiencies.
Confident that additive manufacturing (AM) is the way forward, the company collaborates with technology partners and like-minded airline customers to develop multiple AM solutions. Here, ST Engineering shares how they successfully broadened and deepened their capabilities for AM solutions. 
Overcoming Challenges
Back in 2018, ST Engineering already had plans to expand their AM capabilities from Filament Layer Manufacturing (FLM) technologies to include Laser Powder Bed (LPB) technologies- covering the two processes of Selective Laser Sintering (SLS) and Direct Metal Laser Solidification (DMLS) – so as to offer a wider range of additive manufacturing solutions to customers. 
Originally, it only had Design Organisation Approval (DOA) and Production Organisation Approval (POA) from the European Union Aviation Safety Agency (EASA) for FLM technology. For the LPB technologies, the plan was to build in-house capabilities in managing and qualifying the systems, materials and processes, which would in turn open more application potential to produce AM aircraft parts. 
As a new adopter of LPB AM technologies, ST Engineering decided to collaborate with EOS, one of the industry's pioneering leaders specialising in LPB AM systems, to jumpstart their learning curve in understanding the possibilities and limitations of both SLS and DMLS processes.
AM Solution
By the end of 2018, ST Engineering and EOS' consulting arm, Additive Minds, established an Additive Manufacturing Capability Transfer program. The program comprised customised training and consulting workshops that aimed to build strong fundamentals among attendees in the following topics: parts screening and selection, design for AM, business case analysis, and introduction on critical-to-quality requirements for AM processes.
After the Capability Transfer Program, ST Engineering selected a load-bearing cabin interior assembly with no impact on flight safety from their converted freighter aircraft as a benchmark to kickstart their adoption journey with both SLS and DMLS technologies. 
Check these articles out:
Simulation Irons Out Metal Binder Jetting Defects To Enable Mass-Production AM
Bombardier Partners With ST Engineering To Build Singapore Service Centre
EOS And Audi Expand Range Of Applications For Metal 3D Printing
Aircraft Milled Parts Market To Reach US$4.3B In 2025
2021 Metals Analysis Outlook: Optimising Production Through Connectivity
For other exclusive articles, visit www.equipment-news.com.
WANT MORE INSIDER NEWS? SUBSCRIBE TO OUR DIGITAL MAGAZINE NOW!
FOLLOW US ON: LinkedIn, Facebook, Twitter