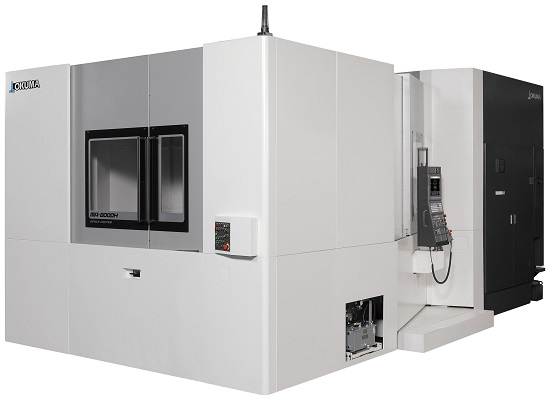 NORDAC FLEX Frequency Inverters From NORD DRIVESYSTEMS
The large power range, up to 22 kW, is characteristic for the frequency inverter. In addition, the NORDAC FLEX SK 205E is compact and enables high precision in synchronous and positioning applications via the integrated POSICON control Another advantage is the precise and rapid current vector control: It ensures constant speeds in case of fluctuating loads. The NORDAC FLEX SK 205E also offers maximum flexibility and due to its high energy efficiency enables energy savings, especially during partial load operation. This even applies to applications that technically do not require an inverter.
Okuma Corporation Launches New Horizontal Machining Center
Okuma Corporation has developed the new MA-8000H Horizontal Machining Center with a pallet size of 800 x 800 mm. Equipped with extensive power-saving functions and eco-friendly technologies that operate autonomously without human intervention, this new product strongly supports user efforts to decarbonise.
Okuma would like to introduce three features of the MA-8000H:
Autonomously achieves energy savings without human intervention.

Sharply boosts labor productivity by strengthening automation responsiveness and reliability to support long periods of stable operation.

Further improves production capacity to process large components with enhanced basic capabilities.
Orders will be accepted from January 2022.
Red Lion Launches Next Generation Graphical Panel Meter PM-50
Red Lion has introduced the next generation of panel meters PM-50. This graphical panel meter, PM-50, expands Red Lion's existing award-winning panel meter portfolio. The PM-50 is available as a 3.5-inch or 4.3-inch graphical touchscreen display. 
Using simple "swipe" technology, users can easily switch between relevant screens and receive comprehensive operational data for monitoring equipment and production.
Visual alerts notify the user that immediate action is necessary, either on the unit itself or via the PM-50 app, available on Google Play or Apple Store.
Sandvik Coromant Introduces A New Form Of Chip Control
Sandvik Coromant has unveiled a new machining method that enables controlled chip breaking in thread turning applications. Launched within the existing CoroPlus® Tool Path software, OptiThreading™ is a new software module that will help manufacturers overcome one of the most significant issues within thread turning — the risk of chip jams and their associated downtime.Successful chip control is the key for good component quality when thread turning.  OptiThreading™ has been designed with these challenges in mind. The module is available as part of a subscription to the CoroPlus® Tool Path, and is developed specifically for CoroThread® 266 tools and inserts. 
Schaeffler's Preload Measurement System, PREMESY
With the growth and development of renewable energy unfolding in the Asia-Pacific region, Schaeffler's PREMESY Preload Measurement System is the first and only system on the market that monitors the bearing preload during mounting and operation of bearings in a wind turbine system. It provides the basis for predictive maintenance and ensures the continued reliable operation of wind systems and technologies by maximizing the bearing service life, lowering maintenance costs, and helping manufacturers avoid turbine failures. 
With renewable energies looking to make a significant contribution to the overall energy mix, PREMESY is part of Schaeffler's strategic investment in supporting the increased generation of energy from renewable sources.
Siemens' New Simcenter NVH Prediction software Application
A new Simcenter™ software application that can bring the benefits of a comprehensive digital twin approach to accurately and easily predict the interior and exterior Noise, Vibration and Harshness (NVH) performance of a vehicle before a physical prototype is available for any type of vehicle: hybrid, fully electric or internal combustion engine (ICE). This new Simcenter™ application helps engineers front load full vehicle NVH analysis and detect potential component NVH performance issues earlier by using measured and simulated component models to build a virtual prototype assembly. Simcenter is part of Xcelerator, Siemens' integrated portfolio of software, services and application development platform.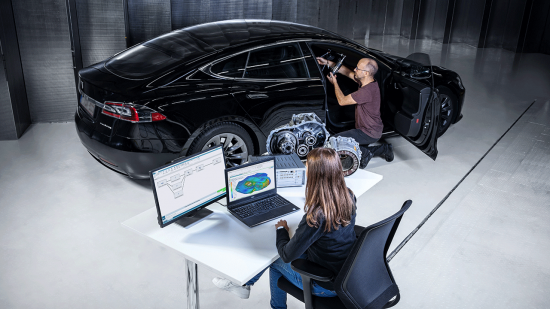 SLM Solutions' Cooler And Faster Method For Manufacturing Plastic Injection Moulds
Omni Mold was approached by their customer to address the issue of inefficient cooling in one of the mould core insert. By investing in a SLM280 2.0, Omni Mold was able to completely reimagine the cooling channel within its mold inserts through laser-fast additive manufacturing. AM enables the manufacture of complex parts, in this case, replacing the spiral shape with a conformal cooling channel that targets the hotspot areas and improves cooling efficiency within the injection mold. This allows for uniform cooling across the entire product, thereby improving overall part quality, minimising distortion, and shortening the cycle time during production.
STUDER roboLoad, A New Type Of Loading System
Loading systems for CNC radius internal cylindrical grinding machines – that was not so easy until now. The special characteristics of these machines, such as the height of the workhead and the associated geometric restrictions, made the development of a handling solution a major challenge. STUDER has now developed a system that not only meets the geometrical requirements but also has a comparatively small footprint and an unbeatable price-performance ratio. For the user, the STUDER roboLoad can be operated without any programming knowledge; it enables great flexibility in production and a high degree of operating comfort.
WANT MORE INSIDER NEWS? SUBSCRIBE TO OUR DIGITAL MAGAZINE NOW!