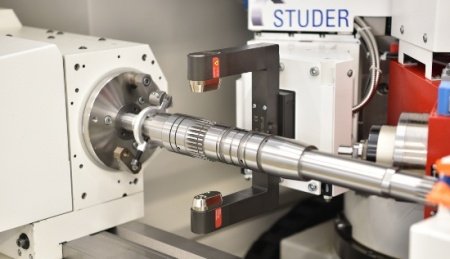 Integrating laser measuring technology expands the possible applications of process measuring technology in grinding machines, supporting the user in his efforts to increase efficiency in precision machining. Article by STUDER.
Finishing processes on grinding machines often demand exacting tolerances in relation to dimension, form and position accuracies, as well as highly accurate surface qualities. Often, companies have empirical values available to fulfil these requirements.
However, with small lot sizes in particular, process evaluation on the machine is desirable, as intermediate measurement on external measuring machines and the resulting corrections prolong the processing time for part machining. These control measures would significantly increase process reliability and productivity. Solutions that can be flexibly used for a wide variety of workpieces are ideal and preferable.
Measuring Technology in Grinding Processes
Production engineers have diverse measuring functions available for process evaluation, which are based on different principles of production measuring technology. The measurement of process forces such as grinding forces (Ft, Fn) or comparative grinding spindle currents, for example, provide an index for achieving the service life of tools or, equally important, they enable the determination of fluctuating allowances, which can influence process stability and compliance with required tolerances.
In addition, tool costs can be reduced, as excessive dressing is prevented. Familiar acoustic touch sensors assist so-called contact detection in the grinding process to reduce grinding time, or monitor the true-to-profile dressing process with its envelope curve functions. Tactile measuring systems such as measurement and control systems for diameters or workpiece lengths, pneumatic systems or microsensors for longitudinal expansions of spindle systems also support increased process reliability.
Other measuring functions can also be described here, such as the use of camera or laser systems for process monitoring. Laser measuring technology in particular opens up interesting fields of application.
Integrating Laser Measuring Technology into Grinding Machines
STUDER can draw on more than 10 years of experience in the use of machine-integrated laser measuring technology, which have been evaluated for trials in the measurement of grinding wheels or workpieces. Such fundamental studies have a tradition at STUDER, to ensure the company is prepared for future trends in production technology. This knowledge and experience has been used to respond to the current requirements. The systems used in other industries for tool monitoring have been further developed by STUDER, on the basis of the latest laser measuring technology, only recently available, for measuring workpieces on grinding machines.
For other exclusive articles, visit www.equipment-news.com.
WANT MORE INSIDER NEWS? SUBSCRIBE TO OUR DIGITAL MAGAZINE NOW!
FOLLOW US ON: LinkedIn, Facebook, Twitter