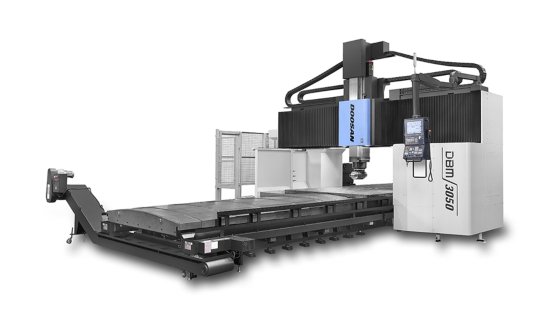 Doosan Machine Tools Co., Ltd will release more DMB Series line-ups, a double column of 2,000mm and 3,000 effective width, which consists of the multi-purpose double column machining center that is suitable for machining both large size workpieces and moulds. DBM Series supports various workpiece shapes and demonstrates a wide range of machining performance and high-precision mould machining, by applying the maximum specification in its class. This Series also maximises convenience in using the double column machining center for 5-sided machining, by applying convenient machining functions.
Supporting Various Shapes and Wide Range of Machining Performance
DBM Series is a specialised machining equipment for machining large size workpieces that offers a wide range of machining areas (effective column width – 2000mm, 2500mm, 3000mm, passage height- 1300mm, table length – 3000, 4000, 5000, 6000, and 8000mm), and can load a workpiece up to 35,000Kg. DBM Series guarantees machining precision that does not change easily even under machining loads for a long time. In addition, DBM Series can machine the mold and five sides, as well as various complex shapes such as freeform slope machining by one degree minimum split, by applying the auto-replaceable attachment that is differentiated for each machining characteristic. DBM Series also contributes to user's productivity improvement because the head attachment replacement time can be minimised by installing two types of head attachment (dummy and 90 degree angle) by applying the automatic attachment changer (AAC) as a standard.
High Precision/High Speed Mould Machining Performance
The DBM Series structure minimises the impact of vibration even under heavy-duty cutting machining loads in the horizontal and vertical directions that occur while machining all five sides, as well as a M-type casting structure to maintain machining precision. The DBM Series also supports stable and precise machining for an extended period of time by minimising heat displacement by applying spindle and structure thermal displacement. This product can maintain heavy-duty cutting performance under any machining loads in the horizontal direction by applying a ram spindle with a maximum output of 55kW that can perform strong heavy-duty cutting, high stiffness quadrilateral box guideway that is stable against thermal strain, and ram cross-sectional area of 380 x 380 mm that is largest in its class. In addition, a more effective high-precision, high-speed contour control can be performed by setting the machining conditions by selecting the DSQI/II/III function.
Improved Operation Convenience and 5-sided Machining Support Program
Considering the screen layout of ergonomic usability, such as feed axis setting and magazine tool setting, improved convenience of operation is established. The DBM Series supports 5-sided machining of the large size workpiece in an easier and more efficient way, by using the 5-sided machining support system that is convenient for machining large size workpieces (packaged function that is available when selecting a 5-sided machining head attachment option), easy pattern cycle, variable control of workpiece load, AFC function, and machining monitoring function.
For other exclusive articles, visit www.equipment-news.com.
Check these articles out:
Tungaloy Strengthens Its Thread Milling Tool Range For Aerospace Threads
Renishaw Encoders Support The Latest DUKIN CMM Design
Schaeffler Expands Product Portfolio With New Manufacturing Plant In Vietnam
Modular Power Package For Demanding Benders
KASTO To Showcase Sawing, Storage Technology Innovations At EMO 2019
OnRobot Launches Three-Finger Electric Gripper For Handling Of Cylindrical Objects
WANT MORE INSIDER NEWS? SUBSCRIBE TO OUR DIGITAL MAGAZINE NOW!
FOLLOW US ON: LinkedIn, Facebook, Twitter