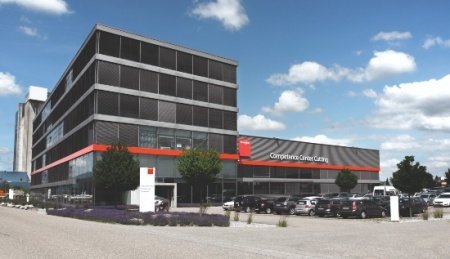 At the Annual General Meeting on April 21, 2021, the share-holders of Conzzeta AG ("Conzzeta") approved the change of name to Bystronic AG ("Bystronic"). The name change is the result of the strategic realignment of the Conzzeta Group. The shares of Bystronic (ticker symbol: BYS) are being traded for the first time on SIX Swiss Exchange.
By pursuing its growth strategy, Bystronic aims to further expand its leading position as high-tech solutions provider for the sheet metal processing industry: New smart factory software solutions meet the growing demand for automation and digital processes and support customers with the networking of their manufacturing processes. The company intends to open up new fields of application, strengthen its position in the individual regions and increase its focus on services. As a result, Bystronic's market share is to continue to grow organically, by means of strategic partnerships and based on targeted acquisitions.
As already communicated on occasion of the Capital Markets' Day on November 25, 2020, Bystronic is aiming for an annual organic sales growth of five to eight percent in the medium term (baseline year: 2019). By the end of the strategy period (2025), revenues are thus projected to increase to approximately 1.3 billion Swiss francs. The company has also set itself a profitability target with an EBIT margin in excess of 12 percent. Thanks to a capital-efficient business model, a return on net operating assets in excess of 25 percent is to be achieved. The service business is to grow from 19 percent (2019) to 26 percent of total revenues by 2025.
"Today is a special day for Bystronic and all our employees. I am very proud of the entire Bystronic team and their commitment to implementing our 'Strategy 2025`. We look forward to demonstrating that Bystronic is a modern, sustainably managed and agile company, and we share this moment with our employees, customers, investors, partners, and other stakeholders," said Alex Waser, CEO of Bystronic.
"On behalf of the entire Board of Directors, I would like to sincerely thank the Conzzeta team and all employees involved and congratulate them on the successful completion of our transformation – towards a company with a focus on high-tech solutions for the sheet metal processing industry. We all wish Bystronic a great start and, as a company now listed on SIX, continued success with the implementation of its ambitious growth strategy,"said Ernst Bärtschi, Chairman of the Board of Directors of Bystronic.
For other exclusive articles, visit www.equipment-news.com.
WANT MORE INSIDER NEWS? SUBSCRIBE TO OUR DIGITAL MAGAZINE NOW!
FOLLOW US ON: LinkedIn, Facebook, Twitter