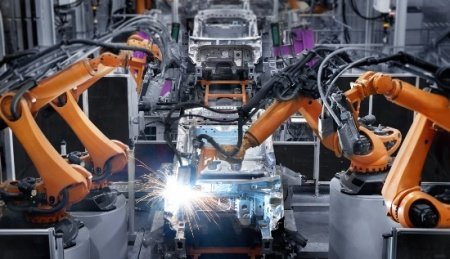 Thailand Sets Sight on Industry 4.0
Thailand is gearing up for Industry 4.0. Here's a look at the opportunities and strengths that the second largest economy in ASEAN has to offer, and its manufacturing outlook for this year.
Thailand is the second largest economy in Southeast Asia, consistently achieving robust economic growth driven by its strong fundamentals and diverse industries. Its GDP expanded by 2.4 percent in the third quarter of 2019, driven mainly by increases in private and government final consumption expenditure and investment, according to the Thailand Development Research Institute (TDRI). From January to September 2019, Thailand's economy expanded by 2.5 percent overall, according to the Asian Development Bank (ADB).
The industrial sector represents between 35 percent and 40 percent of Thailand's GDP, with manufacturing as its main component. Top manufacturing products include automobiles and electronics products. During the first three quarters of 2019, automotive parts and accessories, and computer, equipment and parts are the country's top two exports, according data from the Ministry of Commerce.
Thailand's exports to the United States has somewhat benefited from the trade diversion caused by the continuing trade tensions between China and the United States. According to data from the US Census Bureau, Thai exports to the United States reached $27.77 billion from January to October 2019, up by 4.23 percent compared to the same period in the previous year. This accounted for 5.3 percent of Thailand's total exports during the period.
Many companies in China that export to United States have relocated to ASEAN to circumvent tariffs. Thailand is the second highest recipient of the relocation, with Japanese companies being the majority, particularly in automotive parts and electrical appliances.
The impact of these relocations to Thailand will be more evident in 2020 and is expected to be among the main drivers of the country's economy, together with greater government spending.
Gearing Up for Industry 4.0
At present, there are a lot of investments from mainland China, South Korea, and Japan, coming to Thailand, according to Dr. Djitt Laowattana, Executive Advisor, Eastern Economic Corridor Office (EEC) of Thailand. And most of them are already Industry 4.0, he adds.
"But the local industry is still not acquainted to it. We are still lagging. We are at around Industry 2.5 or 3.0, so, it is a big change in the landscape of the local industry," says Dr. Laowattana. Based on his recent study, he notes that the necessity for implementing and adopting robotics and automation is a reality now in Thailand.
"Before, when you install one robot, the breakeven is maybe around four or five years. But now, when you install one robot, the breakeven can just be around six or seven months. There's no need to convince factories anymore," Dr. Laowattana explains.
EEC Infra Projects in Progress
Dr. Laowattana is currently responsible for five clusters that will be set up in the EEC: Robotics, Aerospace, Medical/Health, Digital Hub, and Biofuels/Biochemicals. "I am responsible for the investment strategy and the human resource development at EEC. We projected that for the 10 clusters, within five years, Thailand will need about 475,000 workers for the industry," says Dr. Laowattana.
While training and education are important to take advantage of these new manufacturing and technology developments, those already in the industry will also be able to enhance their knowledge on these new technologies through trade events and exhibitions, for instance, the Manufacturing Expo 2020, which is ASEAN's leading machinery and technology event for manufacturing and supporting industries; as well as trade publications.
The Thai government has earmarked THB1.7 trillion for the development of the EEC. One key development is the upgrading of the U-Tapao International Airport into an "aviation hub", which will include a maintenance, repair, and overhaul (MRO) centre.
The region currently has spearheaded three smart cities, which aims to be smart cites for logistics, financial hub and aerotropolis. According to Dr. Laowattana, when investors look at the EEC, they are not looking at it as a portal of Thailand, but as a portal for CLMV—Cambodia, Laos, Myanmar, and Vietnam.
"The FDI [foreign direct investment] is expected to be about THB4 trillion for the next five years," says Dr. Laowattana. "Right now, the investments are about THB800 billion—of which, 58% is from China, followed by Japan. We are in a good track. With the investment of THB1.7 trillion for the infrastructure and expected FDI of about THB3 or THB4 trillion for the next five years [in the EEC], anybody can compute and collate that the GDP will be up 2 or 3 percent easily."
Evolving Manufacturing Landscape
Thailand's EEC aims to promote industries that are considered to be key driving forces for sustainable economic growth. And one key area of further development is the automotive manufacturing sector.
Thailand has developed from an assembler of automotive components into a top automotive manufacturing and export hub. It ships to more than 100 countries and has an established presence of almost all the world's leading automotive manufacturers, assemblers and component makers.
In fact, by 2020, Thailand aims to manufacture 3.5 million units of vehicles to become one of the top performers in the global automotive market.
According to Dr. Laowattana, because Thailand's automotive industry is huge, the challenge for new technologies such as hybrid and electric vehicles (HEVs) is the development of the supply chain around it. "But because this is a global trend, we cannot avoid it. Some of the part suppliers, we have to convert them to become precision parts manufacturers for the aerospace industry. When vehicles become EVs, the precision parts of the engine will be obsolete; so, the suppliers, manufacturers of precision parts, they have to move from the automotive to the aerospace," Dr. Laowattana says. "My responsibility is to convert them to be the parts manufacturer for the aerospace industry. And there will be a major MRO set up in the EEC. MRO will be a critical component in the aerospace cluster."
Regarding the transition to EVs, automotive leaders such as Toyota and Honda have already applied for investment incentives for EVs in Thailand. "It seems to me that they are finally doing it, while still maintaining the traditional automotive business. They are now trying to come up with prototypes to test whether EVs and hybrid vehicles will be practical in the Thai market."
Outlook
Thailand's economic outlook is set to pick up this year because of improving state investment after the 2020 fiscal budget is disbursed, which is set to kick off in February. Another thing to note is the investments earmarked for the EEC. Likewise, private investments are also expected to rise despite myriad uncertainties, while exports are seen to improve. In addition, TDRI notes that household consumption is expected to grow at around 3 percent in 2020.
Productivity, in particular, is expected to improve in 2020. "New players are coming; in fact, we have one of the global leaders in robotics coming to Thailand," says Dr. Laowattana. "I think the outlook for industrial automation will be better."
Such optimistic outlook bodes well for technology suppliers to Thailand's high-tech industries, including automotive manufacturing. As Thailand gears up to enter the Industry 4.0 area, system suppliers and equipment makers will find a lot of opportunities to help Thai manufacturers upgrade their manufacturing capabilities, further improve their efficiencies and quality, and take their production to the next level.
As the world changes significantly and the manufacturing industry enters a new era where every single production process is being connected together with Internet of Things (IoT), robotics, and big data solutions, Manufacturing Expo 2020, to be held 24–27 June at BITEC, Bangkok, is set to write a new chapter in manufacturing by gathering the newest manufacturing technology innovations and solutions from 2,400 brands from 46 countries. The event aims to highlight the latest breakthroughs and changes happening in the manufacturing industry, and be the industry's platform to further empower manufacturing development in Thailand.
For other exclusive articles, visit www.equipment-news.com.
Check these articles out too:
E-mobility, Additive Manufacturing Driving Growth in Metrology Sector
Schmersal Group Establishes Subsidiary In Thailand
ISCAR CTO Stresses On Productivity Improvement
Bosch Rexroth, Siemens Joins Sodick, PBA Group in JID's Advanced Manufacturing Ecosystem
Toyota Motor Opens Battery Recycling Plant In Thailand
Top 10 Fast Fab And Metrology Articles For 2019
MVTec Expands Distributor Network in Southeast Asia
WANT MORE INSIDER NEWS? SUBSCRIBE TO OUR DIGITAL MAGAZINE NOW!
FOLLOW US ON: LinkedIn, Facebook, Twitter