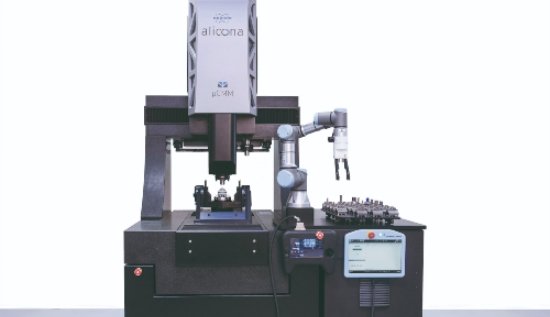 The Importance of Automation for Networked Manufacturing and Digitisation
Automation is more than the automatic measurement of surface roughness and shape parameters. Find out why in this article by Bruker Alicona.
With the trend to increasingly implement quality assurance—and thus metrology—as an integral part of production, the requirements on measurement systems have also changed. Modern measuring systems must be fully automatable so that they can be operated at any time. In addition, complex components with tight tolerances require measuring systems that deliver robust, traceable and repeatable measurement results. Last but not least, an industry-standard interface technology is needed to enable networking and communication between all systems involved in a production chain. Manufacturers then receive real-time data on production trends and prevent rejects at an early stage—a first part is immediately a good part. 
Bruker Alicona is one of the first optical metrology supplier to intensively deal with these demands that come along with the implementation of a smart manufacturing production concept. Today, they offer tried and tested solutions based on the technology of Focus-Variation. 
The following is an overview of the automation options available. The range includes "simple" automated measurement up to the realization of smart manufacturing. 
Automatic Measurement of Dimension, Position, Shape and Roughness
Automation interfaces enable the automatic and user-independent measurement of micro-precision parts or smallest component features on large surfaces. Measurement of shape (distances, roundness, flatness, shape deviation, positional relationships) and roughness parameters as well as of cutting edge parameters (radius, contour, angle) is based on the interaction between an administrator for the teach-in of measurement programs and an operator who starts the measurement using single-button solutions.
The teach-in is designed for maximum user-friendliness and can be implemented in only a few steps without programming knowledge. The component to be measured is identified by means of a drop-down menu or barcode. The corresponding measuring program is started automatically, and the machine operator receives a measurement protocol including ok/not ok data. 
For other exclusive articles, visit www.equipment-news.com.
Check these articles out:
Automated Dimensional Metrology Improves Productivity
Haimer: Microset Tool Presetters
Software Increases Process Reliability
Industry 5.0: The Future Of Manufacturing In 2035
Hexagon Enhances Smart Factory Solutions With Acquisition Of Romax Technology
Driving Industry Forward With Intelligent Technologies
3D-Printed Medical Devices Can Remedy Supply Bottlenecks In Times Of Pandemic
WANT MORE INSIDER NEWS? SUBSCRIBE TO OUR DIGITAL MAGAZINE NOW!
FOLLOW US ON: LinkedIn, Facebook, Twitter