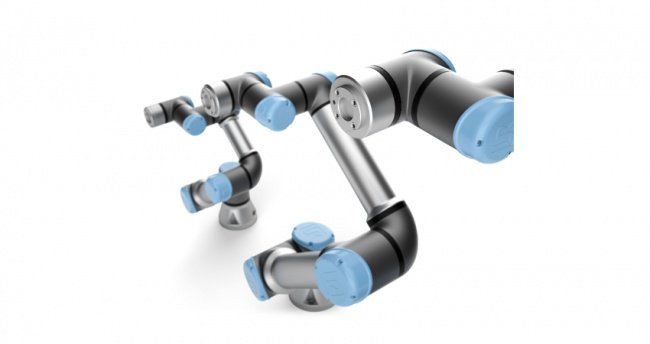 Universal Robots: e-Series Cobot
Universal Robots's new e-Series cobot platform includes technology advances that enable faster development for a wider variety of applications. Improvements include the ability to economically address even more applications, thanks to greater precision and sensitivity provided by a built-in, tool-centric Force/Torque sensor.
Like other offerings from the company, the new e-Series offers unparalleled convenience. It takes just one hour to unpack the cobot, mount it and program the first task. A wrist-join-tool communication interface reduces production line integration time and complexity. Meanwhile, from a service standpoint, all joints can be replaced in 2 to 6 minutes. A re-designed intuitive and responsive-touch user interface expedites program development by simplifying programming to a few clicks on a new lightweight, wide-screen Teach Pendant.
Seventeen safety functions, including customisable stopping time and distance, make collaborative automation easier.