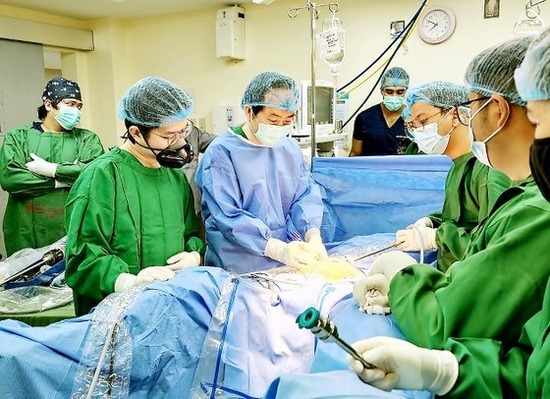 Vietnam Exports Robotic Surgery Techniques To The Philippines
Doctors from Binh Dan Hospital in Ho Chi Minh City assisted their colleagues at Chinese General Hospital and Medical Center (CGHMC) in the Philippines perform robotic surgery for Gastrointestinal cancer — reflecting Vietnam's medical prowess
Source: Vietnam News Agency (VNA)

---
Thanks to this technology transfer, doctors of CGHMC Hospital have successfully performed robotic surgery to treat rectal cancer involving a female patient aged 50. She undergone preoperative chemotherapy and percutaneous transverse colectomy due to intestinal obstruction.
The Filipino doctors were impressed with the single docking technique (the robot position remains unchanged from the patient during the operation, with only one placement of the robotic arms) and the skillful dissection technique that is minimally invasive.
"In the past, a case of robotic surgery in colorectal cancer at CGHMC Hospital could take up to 6 hours to perform. Through the guidance of the doctors of Binh Dan Hospital, the surgery according to the new technique only takes 2 hours and 30 minutes to complete," said Dr Nguyen Phu Huu, who will provide further support and guidance.
There are many cases here and there are presentations to analyse important notes about robotic surgery in gastric cancer, colorectal cancer to help colleagues grasp knowledge and skills. to improve surgery for the patient.
Associate Professor Dr. Tran Vinh Hung, Director of Binh Dan Hospital, said that in October 2019, the hospital's doctors also transferred robotic surgery to the Philippines General Hospital. International cooperation for technology transfer is identified as one of the spearheads of Binh Dan Hospital in developing into a Robotic Surgery Training Center for domestic and regional hospitals, in line with the goal of building to build a specialized medical center in the ASEAN region of the health sector in Ho Chi Minh City.
Robotic surgery has become increasingly popular in Vietnam in recent years, and many hospitals and medical centers now offer robotic surgical procedures using advanced robotic systems such as the da Vinci Surgical System. According to Vietnam Times, the da Vinci Surgical System is currently among the world's most advanced robotic surgery system, has been applied in K Hospital.
Robotic surgery systems offer precise, accurate, and easily replicated results that can greatly assist surgeons and improve patient outcomes. The da Vinci Surgical System allows surgeons to perform various minimally invasive procedures with clinically supported precision and accuracy.
The system applies to a wide array of operations, including minimally invasive cardiac, colorectal, gynecology, head and neck, thoracic, urology, and general surgeries. The surgeon operates via the Surgeon Console that controls the Patient Cart's robotic devices, including various surgical instruments and a camera.
Over 1,700 da Vinci Systems are currently installed in hospitals internationally, and more than 775,000 patients have received procedures from this robotic surgical system.
What You Missed:
P Horn's Solutions For Micro Machining And Swisstype Turning For Precision And Tolerance
Thailand Sets THB 24 Billion EV Battery Subsidy For Domestic Production
Chinese EV Brand Zeekr Is Now Worth More Than Xpeng
Confidence Strong For China's Recovery In Steel Sector
Vietnam Receives New Automotive Project License In Quảng Ninh
Automotive And Construction Named As Key Drivers For ASEAN's Metal Forming Tools Growth
China To Scrutinise Ford's Electric Vehicle Battery Plant Deal With CATL
Hexagon Machine Tool Measurement Helps Portal Milling Machine Fly
Vietnam's VinFast Recalls Nearly 2,800 VF8 SUV
A Prelude To An EV Price War?
WANT MORE INSIDER NEWS? SUBSCRIBE TO OUR DIGITAL MAGAZINE NOW!
CONNECT WITH US:  LinkedIn, Facebook, Twitter
Letter to the Editor
Do you have an opinion about this story? Do you have some thoughts you'd like to share with our readers? APMEN News would love to hear from you!
Email your letter to the Editorial Team at [email protected]