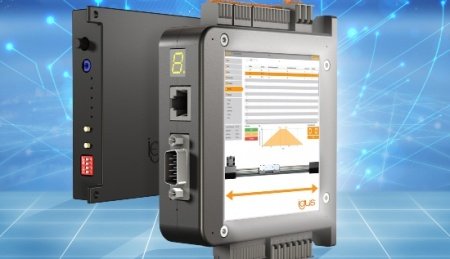 Whether Simple or Complex: Motor Control Systems for Manufacturing Automation
New motor control systems from igus ensure a speedy start-up of linear and rotational systems.
Setting up control systems to drive axes is usually time-consuming and can require software programming knowledge. To help manufacturers address this issue, igus has developed two new cost-effective and easy-to-operate control systems so that users—from all areas of industry—can quickly start up their motorised drylin E drive axes. The D3 dryve controls simple linear or rotational axes with DC motors without any software or a PC. For more complex travels such as with multi-axis robots or delta robots, igus offers the D1 dryve, which is a control system for stepper motors, DC motors and EC/BLDC motors. The motor control system can be modified live or simply operated via a web browser.
Industry 4.0, Internet of Things (IoT) and M2M are fields calling for real products and solutions that promote factory digitalisation and automation. With its low-cost automation range, igus offers myriad solutions for a variety of applications. In its drylin product range, igus has been offering lubrication-free linear axes with matching stepper and DC motors for several years. From low-cost solutions, for very simple movements, to rails made of stainless steel, igus offers a large diversity of options to suit any application requirement.
Depending on the process, the customer is supplied with the axis or linear robot that will best meet their requirements. With drylin E, users can deploy the already-configured lubrication-free linear or rotational axes, which are ready-to-install and can be motorised in different installation sizes as a single axis, or a linear robot structure in the case of format and height adjustment systems or pick-and-place applications. For easy control and operation of the axes, igus' D3 dryve offers a motor control system for simple movement and the D1 dryve a motor control system for more complex tasks. This allows a variety of tasks to be automated without the need for advanced programming.
D3 dryve: Quickly Set, Directly Automated
The D3 control system was developed to perform simple tasks quickly and cost-effectively. The control system is designed for all standard DC motors.
"When developing the D3 dryve, we mainly focused on enabling a simple, user-friendly start-up for anyone," explains Rene Erdmann, Head of Business Unit drylin E Drive Technology.
No licences or software are needed for installation of the control system as all functions have been integrated into the device directly. Simply connect the control system to a 24V power supply and set the operating mode, end-position switch-off, and the motor current by means of DiP switches. The speed can be adjusted with an integrated rotary controller. Current-limiting is done by means of a screwdriver with another controller. Once made, the settings are permanently stored. 
For other exclusive articles, visit www.equipment-news.com.
Check these articles out:
Integrated CAM/Postprocessor Module Simplifies Creation Of Part Programs In CNC Cutting Machines
TRUMPF AI Assistant Optimises Sorting Process
Increasing Integration Of Storage And Sawing Technology
The Smart Future Of Metalworking
FARO Acquires ATS AB To Accelerate In 3D Digital Twin Market
FARO Offers New Capabilities With CAM2 2020 Software
WANT MORE INSIDER NEWS? SUBSCRIBE TO OUR DIGITAL MAGAZINE NOW!
FOLLOW US ON: LinkedIn, Facebook, Twitter